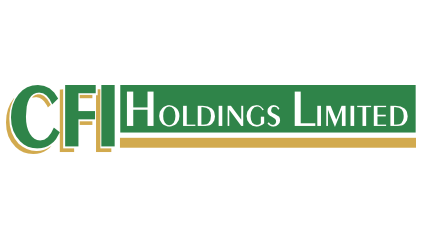 CFI Holdings Limited has overturned its loss making position to register a profit after tax of $879 869 in the year ended September 30 2017 on the back of better market opportunities in the retail sector.
BY TATIRA ZWINOIRA
The return to profitability was from a loss of $45,05 million realised in the same period in 2016.
CFI Holdings acting board chairperson, Itai Valerie Pasi, in a report yesterday, said the company took advantage of opportunities in the retail sector to improve its profitability.
"The group took advantage of market opportunities in the retail sector to trade profitably during the year. Glenara Estates narrowed its losses during the year. Operational losses on entities under judicial management were largely contained to critical care and maintenance costs during the period," she said
This led to a 45,01% increase in revenue to $42,53 million for the period under review from $29,33 million in the same period in 2016.
"Of the total turnover, the retail and farming division contributed 93,9% and 6,1% respectively. The group's earnings before interest, taxes, depreciation and amortisation (EBITDA) was a $2,8 million positive contribution against a loss of $41,8 million incurred in the prior year," Pasi said.
"Financing costs for the period decreased to $600 000 from $2,9 million incurred in the prior year due to a decrease in borrowing levels, following a $1,6 million land for debt settlement consummated at the end of the 2016 financial year. The group consequently, posted a profit before tax of $1,5 million compared to a restated $47 million provision on intergroup balances for entities that were put under judicial management."
She said the loss before tax incurred by entities under judicial management and not consolidated were $3,1 million, mainly driven by depreciation, care and maintenance costs.
"The group's capital expenditure during the period was $500 000. Group borrowings increased marginally to $3,8 million from the $3,6 million owed in the prior year," Pasi said.
The return to profitability translated to a net profit margin was 2,06%, showing the company was in a better profitable position than in the same period last year.
In terms of liquidity, the company's current ratio was at 1,64, meaning, it has more than enough to cover its current liabilities if they become due.
The company managed to grow its cash and bank balances by 505,76% to $1,47 million from a previous $243 905 recorded at the end of September 30, 2016.
However, total assets grew marginally at $72,76 million from 2016's $72,04 million over the similar period for the year under review.
In terms of an outlook for 2018, Pasi said the Farm & City retail business continued to recover on the back of renewed investment focus.
"The group's focus in 2018 is to ensure that operations that were put under judicial management: Agrifoods and Victoria Foods resume production and exploit blossoming market opportunities in the new political dispensation," she said.
Overturning of CFI Holding's loss making position took place while former board chairperson, Hamish Rudland, was on the board before being forced to resign in December 2017, with two other board members, Douglas Mamvura and Ephraim Chawoneka, following suit a week later.
Despite this improved position, shareholders will not be able to trade in the company's stock, as it is serving a suspension from the Zimbabwe Stock Exchange.