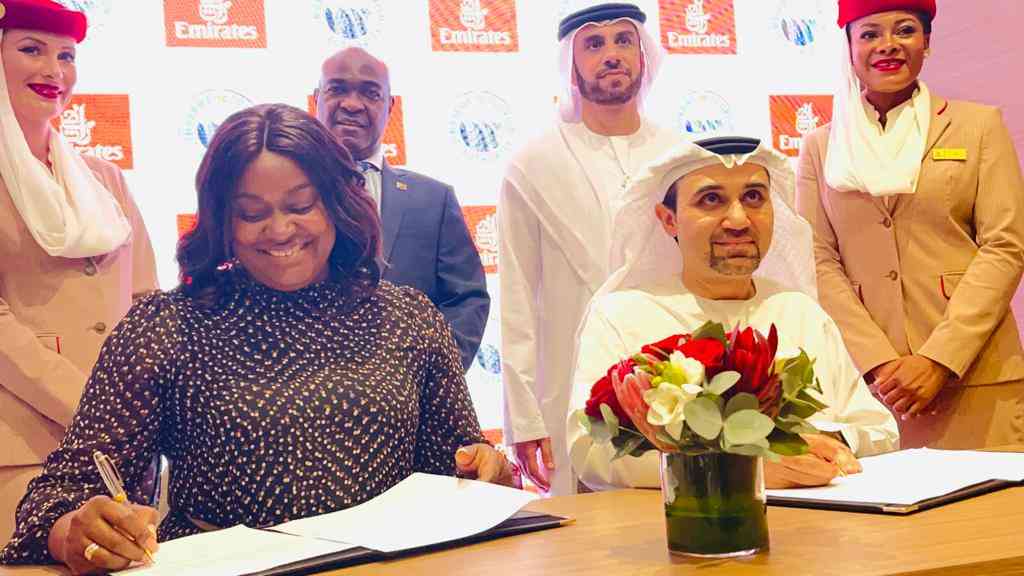 THE Zimbabwe Tourism Authority (ZTA) has partnered South African Airways and Emirates in two significant promotional agreements as it strives to boost direct travel to the country, particularly to the Victoria Falls and Hwange tourist resorts.
The agreements were signed at the Arabian Travel Market (ATM) which got underway on Monday in Dubai, United Arab Emirates.
ZTA was exhibiting at ATM, a travel and tourism event aimed at unlocking business potential within the Middle East for in-bound and out-bound tourism professionals. At the fair, tourism destinations from the Middle East and around the world showcase a diverse range of accommodation options, breath-taking tourism attractions, and new airline routes.
"We're delighted to have partnered with SAA in this region. This collaboration will improve direct traffic into the country particularly in the Victoria Falls and Hwange region. It is a place of interest for the market," said chief executive Winnie Muchanyuka in a Press release.
Under the Emirates deal, the two parties will set in motion a range of joint marketing efforts that include tourism promotions, familiarisation trips for trade and media, among other activities. Both parties will also explore opportunities for joint advertising campaigns in key markets.
Badr Abbas, SVP, commercial operations, Africa at Emirates, said: "The memorandum of understanding signed today reflects Emirates' confidence in the potential and attractiveness of Zimbabwe as an emerging destination that awaits exploration.
"Home to one of the natural Seven Wonders of the World, breath-taking landscapes and glorious historical sites, Emirates says it looks forward to supporting the ZTA in attracting more tourists to the country and showcase its uniqueness and vast array of distinctive experiences. We aim to play a considerable role in raising the profile of Zimbabwe through our strong global network," he said.
Muchanyuka said collaboration was the key to success in tourism, and only by close collaboration can that path be assured of success.
"Zimbabwe is confident that once we implement the agreement, it will create a platform for a progressive increase of arrivals into the country. ZTA and Emirates will broaden engagement and awareness with smart initiatives.
"We are excited to see Emirates' commitment to strengthening their relations with destination Zimbabwe and are confident that this will bring forth tangible results," she added.
Zimbabwe has in the past recorded relatively steady tourist inflows with arrivals sitting at around 10 077 arrivals pre-COVID-19. There was a significant drop due to travel restrictions imposed as a result of the COVID-19 pandemic.
"We're gaining traction from this market in terms of arrivals as we recorded 6593 visitors from this market in 2022 compared to 1002 from 2021. The engagement with the aviation sector will definitely see us increasing traffic from this part of the world directly into the Victoria Falls," she said.
The event was attended by over 50 travel trade professionals who included tour operators, destinations management companies, agencies and travel writers. Hospitality Association of Zimbabwe president Farai Chimba said the agreement was a welcome move for the country's tourism industry.
"This is positive for us; access remains the most critical link for our business. These kinds of synergies create opportunities for increased arrivals into the Victoria Falls that can be spread throughout the country," Chimba said.
Zimbabwe's ambassador to the United Arab Emirates, Lovemore Mazemo who was the guest of honour at the SAA partnership launch endorsed the promotional arrangement.
"We are keen to see the entities building up on this arrangement and increasing the traffic flow into destination Zimbabwe. It is such a strategic partnership that should see both parties enjoying improved business activity," he said.
Related Topics