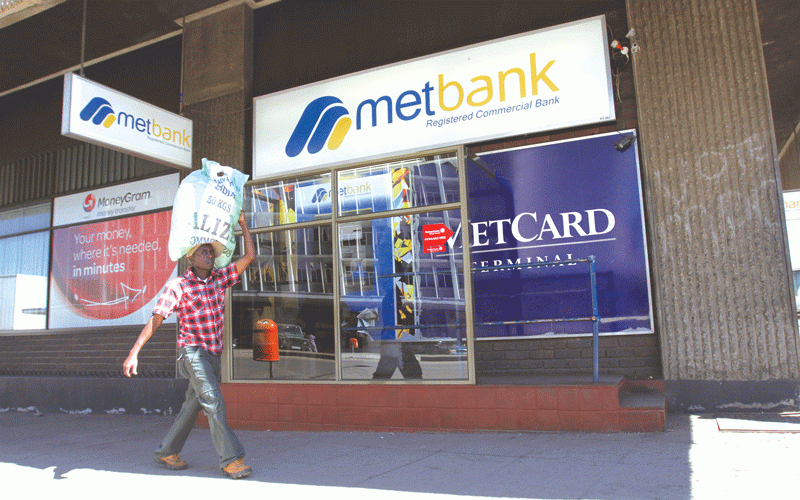 METBANK incurred a net interest expense of nearly $700 million last year, after the bank lowered its loan book by 43,82% during the period, indicating a high cost for borrowed funds.
The drop was despite a comparative net interest income of $114,74 million in 2021.
During its financial year ended December 31, 2022, Metbank loans and advances were down slightly to $3,51 billion from a 2021 comparative of $3,52 billion.
The depreciation of the local currency by over 500% to $684,33 last year meant a higher cost of lending for the bank.
In a statement accompanying its 2022 financial results, Metbank chairperson Linda Chipunza said the bank was focused on increasing foreign currency revenue.
"The bank's focus has been on increasing foreign currency revenue through underwriting loans denominated in foreign currency to act as a hedge against exchange rate depreciation and inflation that will also produce long-term, sustainable profitability," she said.
"Supporting the export sector and growing value preserving assets also results in future sustainable profits and provides a hedge against exchange depreciation and inflation given that we are currently operating in a hyperinflationary economy."
An entity's interest expense essentially represents the cost of borrowing money and is associated with any borrowings made through bonds, loans, convertible debt, or credit lines.
Further, Metbank saw a decrease in deposits to $5,44 billion during the period under review, limiting the bank's lending capacity.
The bank's non-interest income was also down by nearly 60% to $1,85 billion last year from a 2021 comparative of $4,61 billion.
This fall was due to a drop in commission, fee income and other income of 56,53% to $1,88 billion compared to 2021.
The depreciation of the local currency also saw operating expenses rise nearly 51% to $5,63 billion last year, from a 2021 comparative of $3,75 billion, driven by increases in staff and administrative expenses.
"Maintaining operational and financial resilience remained of paramount importance to the bank throughout 2022 supported by robust business continuity and succession planning being cognisant of the potential uncertainties pertaining to the pandemic and political environment ahead of the 2023 general elections," Chipunza said.
She said protection of the interests of shareholders remained a priority for the bank's directors and management.
However, a fair value gain on investment property of $30,55 billion led to a profit after tax of $26,88 billion in 2022 overturning a loss of $517,79 million in the comparative 2021 period.
The revaluation of investment property and property held for sale led to increases in the value of these assets of 23,53% to $70,47 billion and 2 822% to $16,91 billion, respectively.
Consequently, total assets rose to $97,77 billion from a 2021 comparative of $68,1 billion.
"In pursuance of the bank's strategy, innovation and digitalisation will remain core in the delivery of unique customer value propositions. Metbank will continue to engage with all the relevant funding partners in raising long-term capital to support the country's economic development aspirations," Chipunza said.
She added that the bank remained compliant with the revised regulatory minimum capital requirements of Zimbabwe dollars equivalent of US$30 million.
Related Topics