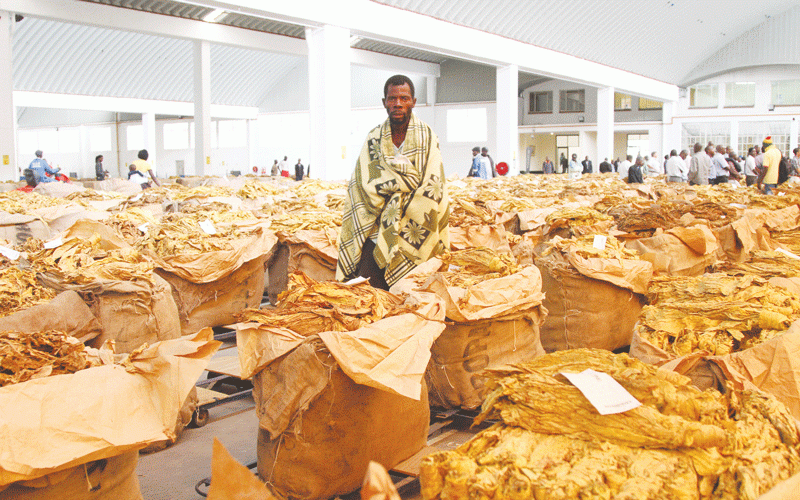 ZIMBABWE has realised a total of US$574,4 million so far from the sale of tobacco, but farmers claim they have received next to nothing in return.
According to the auction and contract tobacco seasonal sales figures from the Tobacco Industry Marketing Board (TIMB) for day 45, the nation has generated US$574,4 million from sales of the golden leaf, a 48,38% increase over records for the same period last year.
Contract sales made up US$531,5 million of the total, while the auction brought in US$42,9 million. The cost per kilogramme was US$3.
Additionally, according to TIMB figures, 191,6 million kilogrammes of tobacco have been sold in total, an increase of 48,13% from the prior period.
Farmers, however, told NewsDay Farming that the revenue only benefited contractors.
"On the negative side, you can see that the prices remain unchanged so that's the biggest concern. Even though there has been an increase in volumes but the return to the farmer is the same as what it was last year," Zimbabwe Tobacco Association chief executive Rodney Ambrose told NewsDay Farming.
"The bigger concern to us at the moment is the 15% Zimdollar that has been paid to the farmers was at the official rate. Farmers have to retool at rates above US$2 600 but they are only getting paid at the official rate.
"Remember, that value that you see that is set by TIMB is not the value that is paid to the farmers. Farmers first have to repay their loans from last season, so most of that money actually hasn't been paid to farmers. Precisely, 80% of that money hasn't been paid to farmers. Farmers are still repaying their loans from last season."
Ambrose added: "So, that figure that they say is the amount of money that has been generated by tobacco, it's not money that has come into the country. It's just a book entry to say the value that has been sold but what then needs to be taken into consideration is that farmers are still repaying their loans."
He said the fact that 80% of the value was going to loan repayment was a big challenge for tobacco farmers, adding that production costs have also been up 30%, which would affect production of the golden leaf.
However, Ambrose said the TIMB report showed a positive trajectory in the sector.
"If you look at the TIMB report you will see that the daily volumes are much higher than what they were last year or any other seasons. So, we have seen an almost sudden average of close to six million, then five million and four million compared to a normal average of three million kilogrammes per day. Basically, farmers and the crop have been ready for the market. They haven't been holding the crop, they have been sending the crop to the market," he added.
Zimbabwe Tobacco Growers Association president George Seremwe said the costs of production are likely to affect tobacco farmers in the short term.
"It's a good development but again, we will stick to our worry which is the cost of production that is a huge concern. Inasmuch as we increase the volume next year, it might be affected because most of our farmers are not making money and it means they are going back to being contracted which is a great worry and we have also noticed that the prices at auction floors have decreased.
"So, that is our worry, but it's a good development that our volumes are up and this gives credit to us growers who are working hard to produce such a crop and the average price has slightly increased. Most farmers are just delivering tobacco to pay the credit, that's it and they are taking home nothing," he said.
The 2022/23 tobacco production season had 148 527 growers doing 117 928 hectares of tobacco as compared to 110 155 hectares of tobacco done by 122 841 growers in the prior period.
Zimbabwe produced 211 million kilogrammes of tobacco in 2021 and 212 million kilogrammes in 2022.
This year, the country projects to produce 300 million kilogrammes.
Related Topics