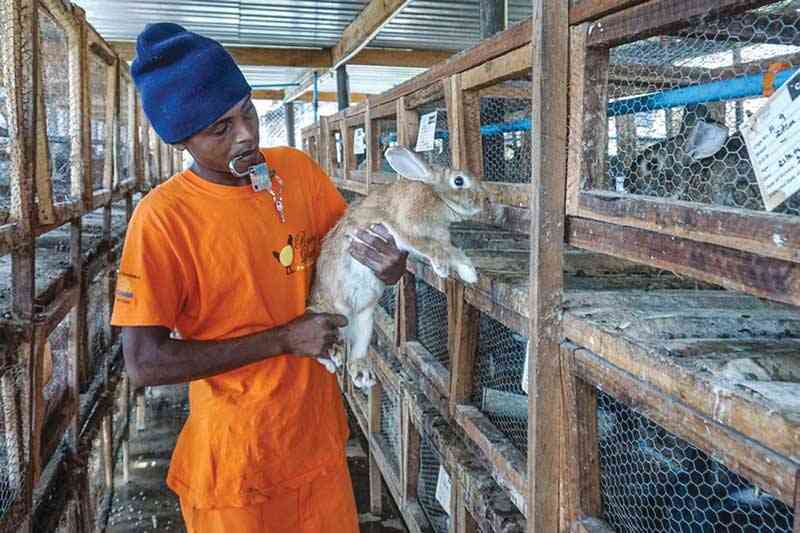 LOCAL rabbit farmers are struggling to meet a 1,5 tonnes order from Botswana for meat owing to their failure to upscale their activities, NewsDay Farming can reveal.
In August, local lobby group, Zimbabwe Commercial Rabbit Breeders Association (Zicobra) announced that Botswana's Northern Rabbit Breeders Association (Nobra) was working to secure 1,5 tonnes of local rabbit meat.
However, nearly two months on, local rabbit farmers are failing to upscale to meet the order.
In Botswana, rabbit meat sells for between P65 and P75 or US$4,87 to US$5,62 per kilogramme.
"Through our regular interactions, our friends in Botswana requested us to supply them with 1,5 tonnes of rabbit meat as a start to meet demand from their supermarkets, hotels and restaurants," Zicobra president Regis Nyamakanga told NewsDay Farming in an interview.
"We are working very hard to fulfil this order as this could be our breakthrough into the lucrative export market. We have appealed to our farmers across the country to deliver their rabbits to the local rabbit abattoir so that we may be able to make good on this request from Botswana."
Nyamakanga said Zicorba had been assisting the Nobra to grow its nascent domestic market, which has been hamstrung by lack of breeding stock, feed and technical knowhow.
"Farmers don't export as individuals ... Zimbabwe has not started exporting anywhere. The southern African states do not export at the moment so we are still building our industry for it to grow and export. We are helping other countries, like Zambia, to build the industry," he said.
"The rabbit industry in southern Africa, in Africa, is still small. We need to first build the domestic capacity and then second to export. So, export is not the priority as you cannot export when you have not met the domestic demand."
According to Zicobra, domestic rabbit meat can grow to between 15 and 25 tonnes sold per month over the next three to five years.
Revenue from these sales is estimated to be US$2,5 million annually.
Nyamakanga said upscaling rabbit production was difficult as it remained a backyard practice rather than a large-scale farming activity.
He, however, added that prospects for rabbit meat exports to the African market were abound, with countries such as Malawi, the Democratic Republic of Congo (DRC), Kenya and Angola being the main targets.
"Over the past two years, we have been assisting our farmers with pure rabbit breeds, training and technical support to ramp up our production to meet local demand as well as exports," Nyamakanga said.
"We are very optimistic of our prospects in this regard as rabbit meat has become the latest craze in the Zimbabwe culinary sector with major supermarkets, hotels, restaurants and eateries having introduced the delicacy on their menus."
Research by the lobby group shows that the global rabbit meat market is estimated at about US$17 billion per year with China being the largest consumer at more than one million tonnes per year.
Zicobra's efforts to upscale local rabbit production are being bankrolled by Raymeg Holdings Limited, a local private investor, of which 6 000 breeders would be realised from an ongoing national rabbit pure breed roll-out programme.
Related Topics