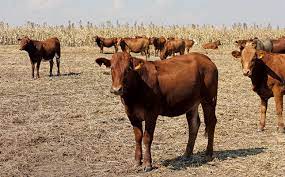 BY AMOS BATISAYI LIVESTOCK farmers from the Midlands region have benefited from innovations that are using information communication technology (ICT) to develop mobile applications for agricultural programmes and other e-extension platforms.
Farmers in the province have faced major challenges in accessing key information on agricultural value chains and livestock farming.
Through funding from the European Union, in partnership with the government, the Zimbabwe Agricultural Growth Programme (Zagp) has become a key driver of e-extension services in the agricultural sector.
Zagp ICT development officer in the Beef Enterprise Strengthening and Transformation project, Ntandoyenkosi Ngwenya told Southern Eye that his organisation is working towards developing digital innovations that would complement government's efforts in transforming the agricultural sector.
"These e-extension platforms were developed to facilitate the quick dissemination of information to all farming communities. The thrust is to offer pluralistic extension services under the mantra Digital Innovations for Zero Hunger," Ngwenya said.
He said some of the mobile applications introduced under the e-extension platform included the Kurima Mari Beef app, and Kurima Mari Poultry app.
"These two mobile applications have been key enablers of information dissemination, giving advice on good animal husbandry practices and general information on farming and livestock production.
"The two mobile apps are readily available on Google Playstore, making them easily accessible to all farmers. In addition, these applications are packaged in local languages such as Ndebele and Shona. Apart from mobile applications, another key driver of e-extension under the Zagp projects is the SMS extension platform. Farmers receive weekly SMSes with key messages on good animal husbandry practices as per the beef calendar."
Several farmers from Gokwe told NewsDay that the services offered through the assistance of German non-governmental organisation Welthungerhilfe have assisted them to digitalise agriculture.
A beef farmer in Kwekwe said the platforms assisted him to learn key agricultural routines at the height of the COVID-19 pandemic where farmers had less physical interactions with extension services.
Welthungerhilfe also developed Agrishare, an application for farmers to rent equipment which is locally available in their areas from a combination of public and private hiring services. Similar to Uber and AirBnB, Agrishare enables farmers and private companies to market their services through the convenience of their smartphones.
Follow Amos on Twitter @ABatisayi