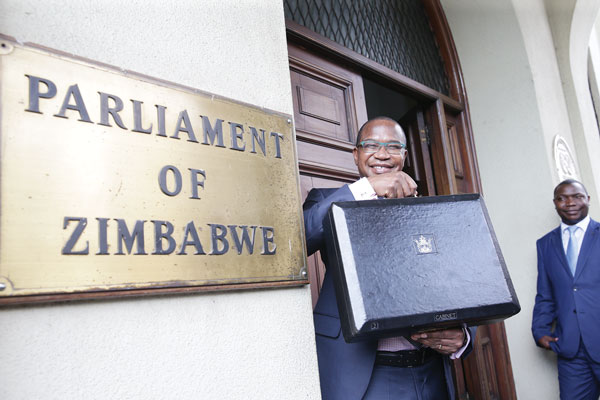 By Taurai Mangudhla
ZIMBABWE'S banking sector is stable,  with all banks reporting profit positions so far in 2021, Finance minister Mthuli Ncube said in his Midterm Budget and Economic Review yesterday.
Ncube said banking sector profits for the first quarter ended March 31, 2021 amounted to $6,6 billion, an increase from $2 billion reported in the prior year.
"Most banking institutions are reviewing their business models with a thrust on digitisation, hence the increased contribution of non-interest income to total income from service charges on digital platforms," he said.
Total banking sector deposits amounted to $321,8 billion as at June 30, 2021, representing a 57,6% increase from the $204,13 billion reported as at December 31, 2020.
Foreign currency accounts (FCA) deposits alone amounted to US$1,5 billion as at June 30, 2021, and have been described as one of the highest FCA deposits ever recorded since independence.
"Engagements with the Deposit Protection Board and stakeholders are in progress to protect foreign currency deposits as well as leverage on such deposits to enhance financial intermediation for the benefit of the economy. These measures will allow the circulation of the US$1,5 billion currently sitting in FCA accounts to promote growth and development," Ncube said.
In terms of lending, total banking sector loans and advances increased by 27,7% from $82,4 billion as at December 31, 2020 to $105,2 billion as at March 31, 2021.
Ncube said financial intermediation remained stable during the period under review as reflected by loan to deposit ratio of 43,53%, a position representing a conservative lending approach adopted by most banking institutions.
Banks' support to the productive sectors of the economy stood at 84,8% of total loans as at March 31, 2021.
"To ensure affordability of these facilities, the interest rate at which the productive sector accesses them from banking institutions have been capped at 10% above the borrowing rate in order to avail affordable long-term financing for production and the country's industrialisation agenda," Ncube said.
According to the review, the performance of loan portfolios of banking institutions was satisfactory as reflected by the average ratio of non-performing loans (NPLs) to total loans, which remained low at 0,36% as at March 31, 2021, against the international benchmark of 5%.
This, Ncube said, reflected sound credit risk management systems and internal controls.
Going forward, the Treasury chief anticipates credit risk to remain low.
"Meanwhile, the average prudential liquidity ratio for the banking sector remained largely stable at 68,36%, which was above the minimum regulatory requirement of 30%. The high average prudential liquidity ratio largely reflects the conservative approach to lending by the sector," Ncube said.
Government has engaged banks, through the Bankers Association of Zimbabwe, to comply with Statutory Instrument 65A of 2020 regarding payment of interest on savings accounts.
Banks have scrapped bank charges on savings accounts and fixed-term deposits and agreed to offer minimum interest rates of 5% and 10% for savings and fixed-term deposits, respectively, effective July 1, 2021.
Ncube also said the central bank and the Public Debt Management Office in the ministry were putting in place a Blocked Funds Bill for the settlement by government of around US$2,8 billion foreign exchange liabilities contracted by Zimbabwean entities prior to the change of currency in February 2019.
"Resolution of blocked funds is being done along the lines of the 2015 RBZ [Reserve Bank of Zimbabwe] Debt Assumption Act and pursuant to Statutory Instrument 33 of 2019 that separated historical foreign currency obligations (blocked funds) from historical local currency obligations. In terms of this statutory instrument, the blocked funds are treated as foreign exchange obligations to be paid by the government to external creditors on behalf of the local contracting entities," he said.
 Follow Taurai on Twitter @mangudhla7