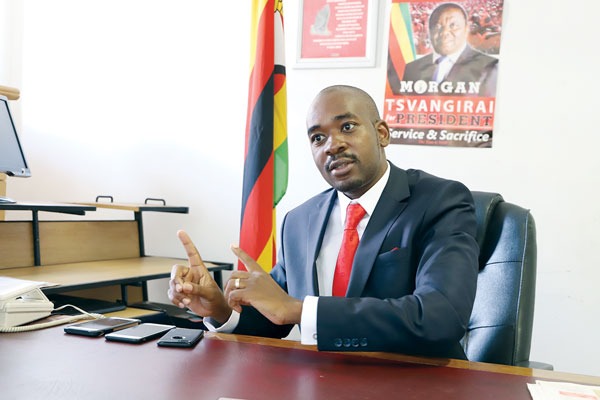 OPPOSITION MDC leader Nelson Chamisa has reportedly triggered a fresh bid to elbow out senior party leaders suspected of plotting to challenge him for the party presidency at congress next year, NewsDay has learnt.
BY RICHARD CHIDZA/JAIROS SAUNYAMA
Insiders said Chamisa has called for extra-ordinary meetings of the national standing committee, national executive and national council this week at which he is mulling a push for the suspension of secretary-general Douglas Mwonzora and vice-president Elias Mudzuri, cited as two leading contenders for his position at the elective congress slated for next year.
The opposition party was expected to go to congress next February, but the elective indaba reportedly now hangs in the balance amid reports that Chamisa wants it pushed to around October, as he seeks to consolidate his position at the top and buy time to deal with his challengers.
"The standing committee, national executive and national council were expected to meet for the last time this year on December 15 or thereabouts, but the president (Chamisa) has called for extra-ordinary meetings of these key structures next week (this week)," NewsDay heard.
"There will be a meeting of the standing committee on Wednesday; the national executive could meet on the same day or Thursday before a national council meeting likely on Friday. The main agenda of the meetings is to push for the suspension of Mudzuri and Mwonzora basically because internally, they have indicated their wish to challenge the president."
Party spokesperson Jacob Mafume confirmed the meetings, but, however, said they had been called to discuss "pressing national issues".
"These are meetings that were discussed at last week's standing committee meeting and the agenda is known by all leaders. We will not discuss anything that is not on the agenda. We are in a situation where the country's security sector has adopted a mindset that characterises the opposition as a rebel organisation with parallel military structures," Mafume said.
"It is an alarming and scary mindset and as an opposition party we cannot afford to ignore that."
Sources said Chamisa wants to use anger among his supporters stocked by reports that Mwonzora and Mudzuri approached Chief Justice Luke Malaba and offered him an apology for the raucous behaviour displayed by opposition MPs during the official opening of the Eighth Parliament in September.
"Mudzuri and Mwonzora apologised to the CJ, but this without Chamisa's blessing and he is very angry with it. The issue was further complicated by Speaker of Parliament Jacob Mudenda officially noting the apology, but then requesting it in writing at a meeting of the Standing Orders and Rules Committee," NewsDay heard.
Contacted for comment, Mudenda curtly said: "I don't know about that (apology). The Speaker would have received an apology from who? I don't know about it."
Walter Chikwanha, the Judicial Service Commission secretary, was not available for comment yesterday, but a few weeks ago indicated he wanted to consult Malaba on the matter.
Chamisa's supporters have reportedly been using this to have Mwonzora and Mudzuri sanctioned, but to no avail for now.
The MDC leader's spokesperson Nkululeko Sibanda, while not directly confirming the issue, said Mwonzora and Mudzuri would be better placed to talk about it.
"This is an issue that the two leaders (Mwonzora and Mudzuri) have been given clearance to publicly make comments on. The president (Chamisa) is not commenting because it would appear that he is publicly pitting himself against senior leaders in the party," Sibanda said.
Both Mudzuri and Mwonzora were not available for comment yesterday, but the former Harare mayor last month did not deny he had met Malaba and apologised.
"That issue has not been made official or public. It will be made public, just be patient a bit," Mudzuri said then.
Mwonzora, however, told a rally in Mutoko on Saturday that he would make a pronouncement on whether he will challenge Chamisa "at the right time".
"Let me say this as the secretary-general, there are some people who are spreading lies that so and so are fighting, or this one wants to take over from this one.
"We have a president called Chamisa. As a secretary-general, I work under his leadership. Be wary of Zanu PF infiltration to destabilise the party," Mwonzora said.
"It is not the time. I have not sent any person to campaign for me. I will speak for myself."
The Manicaland Senator, however, said party members were free to challenge for any position, as long as they have the support, but warned "it is illegal to canvass for support before the congress dates are announced".
Sibanda claimed the ruling Zanu PF party was behind the narrative around the push for the two senior leaders' ouster plot.
"This is a narrative being created by Zanu PF. This is a discourse from the enemy who would want to divert attention from the issues that the president is dealing with," Sibanda said.
Mafume added that the MDC congress was only due next October, dismissing reports that it would be held in February.
"It is an argument based on an interpretation of the constitution. But that provision only applies to an acting president, who would have been in place for one year. We do not have an acting president, because our current leader was given the mandate to complete his predecessor's term. So congress is due at the latest in October 2019," he said.
This is not the first time that Chamisa has tried to have Mwonzora, in particular, fired from the party.
Early this year, a motion moved by his acolytes was reportedly only stopped after party youths from the notorious "Vanguard" jumped to the party secretary-general's side during a stormy meeting.
Sibanda defended his boss and declared he was willing to be challenged.
"The president is a democrat, will remain a democrat and all insinuations that he is against democratic processes is frankly infuriating," he said, adding Chamisa was aware of a plot to "exclude him from politics by claiming he is excluding others".
Mudzuri and Chamisa's rivalry dates back to the MDC-T 2011 congress in Bulawayo, where the latter "waylaid" the former Harare mayor for the position of national organising secretary.
Chamisa was at the time party spokesperson, while Mudzuri was riding the crest of a wave after fronting the opposition party's 2008 hugely successful campaign, but then lost to his younger counterpart.
Mudzuri also opposed Chamisa's controversial rise to power following the death of founding leader Morgan Tsvangirai in February this year, but chose to remain in the party, while another then vice-president Thokozani Khupe broke away.
Mwonzora and Chamisa came head-to-head for the party secretary-general's position at the 2014 congress, with the former Nyanga North lawmaker winning the contest, albeit on the back of a single nomination, while his opponent had swept the board in terms of provincial endorsements.
Since then, the two have become eternal enemies, party insiders said.