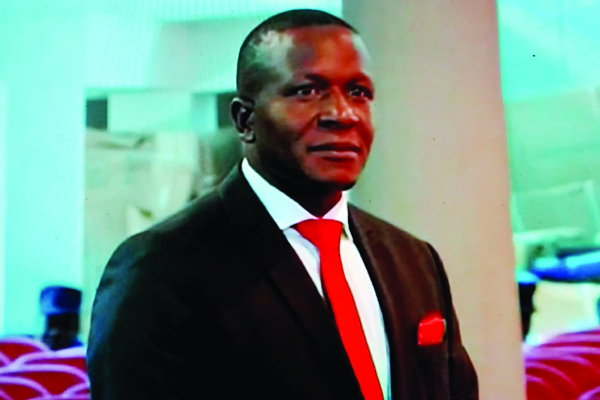 WAR veterans and Zanu PF electoral agents in the July harmonised elections in Hwedza are pushing for the ouster of former Mashonaland East resident minister David Musabayana from Parliament, alleging he is corrupt and dishonest.
BY RICHARD CHIDZA
In two separate documents sent to Zanu PF Mashonaland East provincial headquarters, the war veterans and the electoral agents said Musabayana should be chucked out as Hwedza North legislator for, among other things, allegedly being a member of the G40 faction that was in the ruling party pushing to foist Grace Mugabe as the then President Robert Mugabe's successor.
Mugabe resigned last November after a military intervention, while several members of the G40 faction went into self-imposed exile. Mugabe was eventually succeeded by President Emmerson Mnangagwa.
"Musabayana is a G40 (member). He holds meetings excluding war veterans always and on these he picks his favourite subjects only," read the war veterans' document.
"War veterans are saying we voted for our party seat not for David Musabayana. We love our party and vowed we would then settle our differences later – now is the time. We share this feeling with more than 85% of the party members of Hwedza North constituency. So, it is high time Musabayana goes. We have complained right from the primary election time. Please, the party seniors should do something now. Musabayana must go!"
But Musabayana shot back, accusing sore losers in the Zanu PF primary elections ahead of the July polls for being behind the "smear campaign".
"Nobody has ever come to me with a complaint. I meet all my constituents every month, including war veterans and nobody has ever raised an issue. It's being pushed by people who lost in the primary elections and still angered by their loss," said Musabayana.
The war veterans alleged that the former provincial minister also decampaigned Mnangagwa in the presidential election.
"He bottle-necked the regalia that he was given to the extent that some people were disheartened, if it were not of the constituency campaign team which battled to keep people calm. This showed us that he didn't want the President to win the elections," the war veterans claimed.
"Some of the regalia is stocked at his farm … We have much more negative speeches and actions which show that Musabayana is not for the new dispensation, but G40 orientation. He must go before he does more harm to the Hwedzareans."
In a separate document, some of Musabayana's polling agents claimed they were not paid by the former minister despite him having been financed by the party to the tune of $13 000.
However, the ex-provincial minister described this as nonsense: "All agents were paid by the party and not an individual candidate. It's nonsensical to claim otherwise."
Mashonaland East Zanu PF chairperson Joel Biggie Matiza said he was yet to receive the complaints.
"I have not received any letter or complaints regarding anyone," said Matiza curtly.
In June, police in Mashonaland East instituted a probe into Musabayana on allegations that he duped Zanu PF women's league members of thousands of dollars.
The women recently petitioned Mnangagwa, claiming Musabayana fraudulently collected $2 each from 10 000 members in Hwedza North constituency, claiming he wanted to open bank accounts for them.
The former minister is also accused of abusing authority and undermining traditional leaders.
Before the elections, Chief Nyahuye Svosve of Hwedza wrote to Zanu PF and Mnangagwa asking them to recall Musabayana from his ministerial position and also bar him from contesting parliamentary elections for Hwedza North.
Musabayana was also accused of abusing his office and name dropping the President for personal gain.
"So we request from you the President (Mnangagwa) and VP (Constantino Chiwenga), the government and party that we do not want Musabayana as MP because he has no respect for traditional leaders and war veterans. He must be disqualified; we are not happy because he is working with the G40 cabal that wanted to kill the President," Svosve said in a letter dated May 6.