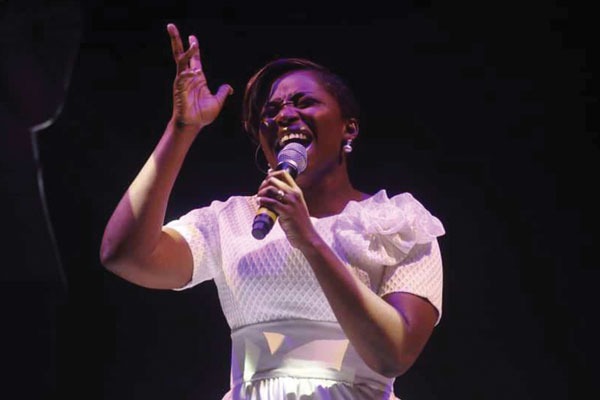 JANET Manyowa — who filled up the Celebration Centre auditorium during the launch of her second album on Saturday night — is onto something huge.
BY ANESU MUSHAWATU
If any thought that the gospel songstress was a fly-by-night act, then they only had to be at the unveiling of the musician's second album, Grateful, to witness magic in motion.
Even renowned music producer, Clive "Mono" Mukundu, who was part of the crowd, admitted that the way the launch was oversubscribed could be a record in itself.
In a congratulatory Facebook post following the launch, Mono described it as "the first sold out gospel gig in a long time".
Manyowa told NewsDay Life & Style that she was overwhelmed by the turnout: "We had about 4 000 people here tonight. We are blown away by the support as well as the turnout, and we are grateful to God."
An innovative artiste seeking to feed local gospel fans in a highly-starved market, she said the event would be turned into an annual affair featuring international and local gospel acts.
Featuring three renowned South African artistes — Dr Tumi, Nqubeko Mbatha and Ntokozo Mbambo — the show was meant to create diversity and value in a market starved of gospel music and will go down as one of the finest this year.
Manyowa, who took to the stage in a snow-white gown, changed her attire four times during the course of the show. She churned out several numbers from her discography before calling Shingisai Suluma onto the stage for their duet, Muchengeti.
She wrapped her set with Tinomutennda Nei, which had fans in some bit of action on the dancefloor.
Bonnie Deuschle, Pastor G, Thembalami, Shower Power, Call to Worship and Celebration Choir also performed, while the South African entourage of Dr Tumi, Mbatha and Mbambo also did not disappoint. The high point was when Dr Tumi did a Shona rendition of his latest single, Wafika, which thrilled fans.
The show, complemented by impressive stage work, also witnessed performances by saxophone wizard Joseph Chinouriri and comedian Thubelihle "Nceku" Sibanda, who successfully filled in the gaps as engineers were setting up the stage for different artistes.
Michael Mahendere, Joseph Madziyire, Tyra Chikocho, Macdonald "McDee" Chidavaenzi and Nyasha Mtonhori-Nyaparami were also at the launch, summed up in Facebook post by Jibilika founder Plot Mhako: "Janet Manyowa is an inspiration to our generation; not only Gospel."