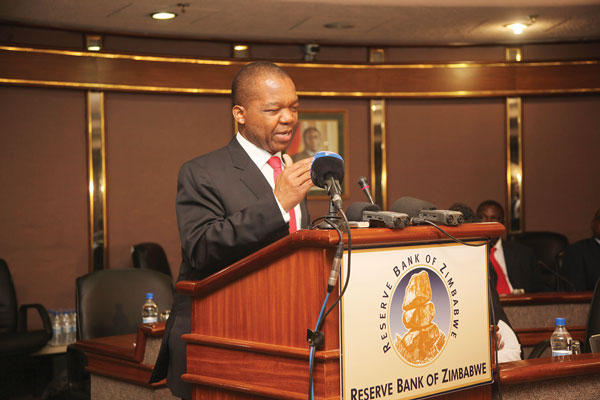 LOCAL commercial banks and senior figures within the Reserve Bank of Zimbabwe (RBZ) are either involved in fanning the black market activities that reached alarming levels last week or incompetent to the point of failing their mandate, it has emerged.
BY RICHARD CHIDZA
Reports yesterday showed that arrests of high-profile people were imminent after President Emmerson Mnangagwa convened a security cluster meeting to deal with the currency parallel market that wreaked havoc last week, with the United States dollar at some point trading at $1 to $6 with the surrogate bond note or electronic transfers.
In an update on the state of the economy, Mnangagwa yesterday warned the black market had become a threat to national security, which demands a "bold response".
"A great threat to our bid to stimulate productive activity in the economy comes by way of non-productive, speculative activities operating below the radar, but involving millions in precious foreign currency and bond notes," he said.
"These nefarious activities thrive on different electronic platforms. New measures will be pursued to stop such malpractices.
"I call on all of us to tread back into the real economy, away from the current practice, where currencies become key commodities that transact in dark markets, controlled by shadowy figures."
RBZ governor John Mangudya said last week's chaos were artificial.
"Those figures of foreign currency being bought or sold for up to six times its value were computer-generated. They were not real and few, if any, transacted at those rates. You could see that it was artificial given the way the situation tumbled back to reality," Mangudya said.
It emerged the net was closing in, with the RBZ's Financial Intelligence Unit (FIU), the Central Intelligence Organisation (CIO), the police as well as heads of commercial banks now in the vortex of a raging storm as to how they could have failed to detect illicit transactions taking place under their noses.
"The people moving money onto the black market, the people behind the money changers are not your ordinary Zimbabwean. These are influential people with access to huge sums of cash. It has been discovered that one character has been pushing onto the black market as much as $48 million in foreign currency," sources told NewsDay.
"This person has access to cash and it is difficult to understand how this could have happened without the knowledge of the CIO, the FIU, the police as well as the commercial bank. The meeting called by the President could trigger a nasty fall-out and there is already gnashing of teeth. Some people have a lot of explaining to do and heads will roll."
But Mangudya said his bank was not involved and, instead, had been investigating illicit transactions.
"The bank does not participate in parallel market practices. It is a process and we have been investigating and if you have any information, please bring it to us. Commercial banks have an obligation to report financial malpractices as well as suspicious transactions," he said.
Finance minister Mthuli Ncube's 2% tax and the separation of real time gross settlement (RTGS) accounts from nostro foreign currency accounts was blamed for triggering the economic chaos in the country.
Police spokesperson Assistant Commissioner Paul Nyathi was not available for comment.
While addressing British think-tank Chatham House last week, Ncube promised unspecified action.
"There is an announcement that I will make, but cannot do that now," Ncube said, warning there will be consequences for those behind the economic chaos.
State media yesterday reported Ncube had repeated his warning while attending a meeting of international multilateral institutions in Indonesia, amid speculation there was likely to be a cut-off date for people to deposit all the cash they have.
"There is likely to be an announcement for people to deposit all the cash they have. Authorities are also looking at the possibility of putting a cap on the amount of money one may hold in their account without being asked to explain, but anything beyond that maybe forfeited if no adequate explanation of its origins is not given," NewsDay heard.
While urging citizens to "gird" their waists for tough times ahead, Mnangagwa promised no savings will be lost.
"I am aware that information must continue to flow to the citizenry so that there is an appreciation of the direction we are taking, the course we must walk and the sacrifices to be made, and for how long.
"Government continues to work flat out to protect consumers, defend wage values and secure savings. This includes the $9 billion in RTGS deposits in our banks. We are already putting in place legally enforceable measures to protect such earnings and savings, whether in local or foreign currency," Mnangagwa said.
"No one will lose their money."
Mnangagwa warned of an impending civil service job-cut.
"The National Budget will be balanced and the appetite for public spending restrained so that the cost of running the public sector remains within set targets.
"The wage bill must come down to levels which are sustainable, supportive and stimulate private sector-led economic recovery and the growth that we envisage and desire," he said.
"Government will learn to live within its means."