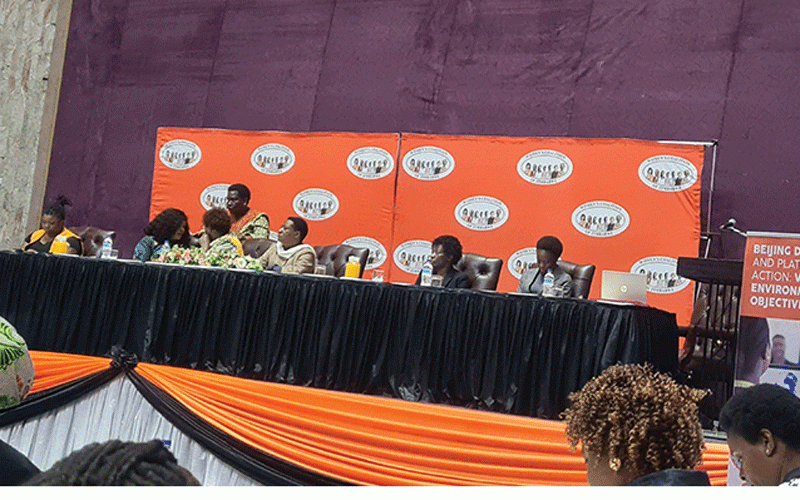 GOVERNMENT has been accused of neglecting women in decision-making processes and programming on issues to do with climate and environmental issues.
The sentiments emerged during a women and environment rights symposium organised by the Women's Coalition of Zimbabwe held in Harare on Wednesday.
The symposium was attended by women small-scale farmers and their associations, representatives from the ministries of Women's Affairs, and Environment, Climate, Tourism and Hospitality, as well as the Environmental Management Agency.
"We have seen the government's efforts in raising awareness that the environment is changing, but women's voices are few at the top in decision making," said one delegate.
Another delegate said: "Women face the brunt of climate change more. We have heard about climate change, but government policies need reviewing. Some say use washable pads if you cannot afford sanitary wear, but where do I wash those pads when we have no water."
A Kwekwe Women in Mining representative said the mining environment is not safe for women.
"As women miners, we seek equal opportunity in Zimbabwe's male-dominated mining industry, but several cultural and financial obstacles, mental stress, violence and physical abuse stand in our way. We call for the government to deal with the violent gangs that are terrorising us," she said.
Marko Raidza, representing the Parliamentary Portfolio Committee on Mines and Mining, said Parliament was aware of challenges facing women in sectors such as mining.
"Currently, we are reviewing the Mines and Minerals Bill. We want more voices from women to come out, especially with issues of climate change. We cannot make the laws for you without you," Raidza said.
Women's Affairs ministry representative Junior Muchuchu said they were working with traditional leaders and civic society towards the inclusion of women in decision making processes.
"The ministry has developed policies, strategies and programmes to amend the situation which has resulted in gender imbalances. As a ministry, we are there to bring a balance. We are mainstreaming women in key positions," Muchuchu said.
Related Topics