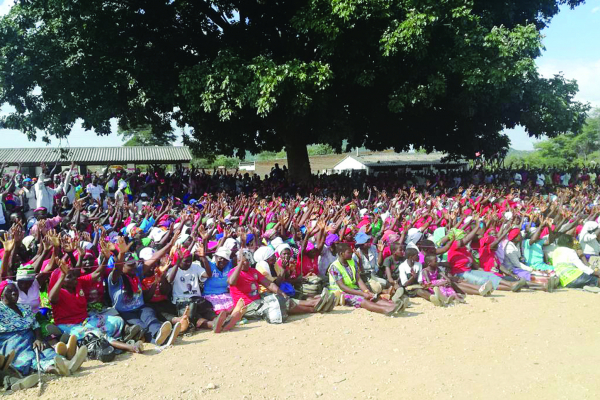 MDC Alliance's sole councillor for Marondera Rural District Council (MRDC), Nelson Mukwenha recently tried the impossible when he nominated himself to contest in all committee positions available despite apparent lack of support from his Zanu PF colleagues.
BY JAIROS SAUNYAMA
Mukwenha of ward 10 is a lone ranger in the 22-member council with all, but one ward being held by Zanu PF.
During the swearing-in ceremony held recently, Mukwenha, a member of the Tajamuka/Sesijikile pressure group, attracted attention in the gallery as he nominated himself for the position of chairperson and leader of six committees.
However, he would not find any seconder before he was drafted into the audit committee as a committee member.
"I was born a leader and this is why I nominated myself. The unfortunate thing is that I am the only MDC Alliance councillor in a rural-based council. However, I am going to prove my capabilities as well as to work for those who elected me," Mukwenha said.
"I wanted to be the council chairperson or at least lead a committee, but it didn't work. The good thing is that I was sworn-in and it is time for action. My presence will be felt."
Under a "gentlemen's agreement", the chairperson of the MRDC is supposed to rotate between Marondera East and Marondera West constituencies.
But for the second consecutive term, Marondera East provided the chairperson amid reports that Marondera West was being punished for losing a ward to the opposition as well as the defeat of President Emmerson Mnangagwa who garnered lesser votes than MDC Alliance leader Nelson Chamisa in the constituency.
Taurai Chikukwa (ward 2) was unanimously nominated as the new council chairperson while Tonderai Kwaramba (ward 14) was appointed his deputy.
Meanwhile, MDC Alliance Marondera chairperson Chengetai Murowa took over as mayor of Marondera Municipality after defeating long-serving councillor Dominic Matangira on Friday.
The swearing-in ceremony was marred by chaos as MDC Alliance supporters blasted the party leadership for imposing candidates. Murowa is deputised by MDC provincial deputy organising secretary Boniface Tagwirei.