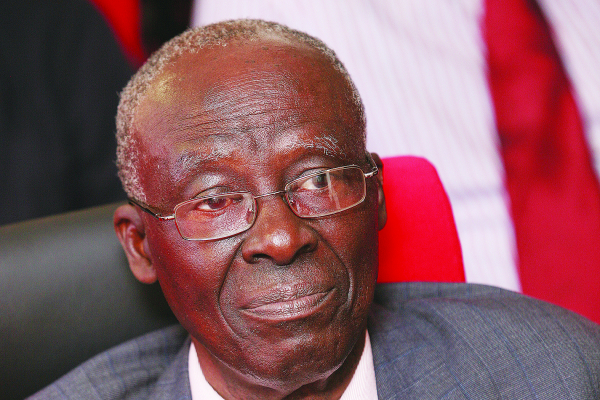 FORMER vice-president of the Joice Mujuru-led National People's Party Samuel Sipepa Nkomo says his political career, spanning nearly six decades, had so many ups and downs, but the lowest dip was when he, together with other former MDC-T 'rebels' led by then secretary-general Tendai Biti, walked out on party founder, the late Morgan Tsvangirai in 2014, accusing him of being a dictator and failing to dislodge then President Robert Mugabe in three successive polls. Sipepa Nkomo and his colleagues were eventually recalled from Parliament before their eventual split, which saw him joining Mujuru's NPP. Last week, the former Water and Climate minister in the 2009-2013 unity government severed ties with Mujuru after the opposition party's poor showing in the July 30 poll and also announced that he was quitting active party politics to concentrate on church activities.
INTERVIEW: Silas Nkala
Southern Eye reporter Silas Nkala (SE) on Wednesday had an interview with Sipepa Nkomo (SSPN), where he outlined his future plans after quitting politics.
Below are excerpts of the interview.
SE: Now that you are retired from politics, what would you say is the decision you regret most in your political career?
SSPN: I think the biggest mistake that I did was to leave the MDC-T with Biti, resulting in our being expelled from Parliament. To me, that is the biggest mistake that ever happened, but otherwise, my thinking was that we were right.
SE: You do not regret being part of NPP?
SSPN: No, I do not regret being in NPP, but I regret my association with other legislators in the MDC-T which led to our expulsion from Parliament and from MDC-T. That is what I regret. Now that the People's Democratic Party that we had formed has disintegrated, I do not regret being in the NPP. I think it had a lot of opportunities and if we had done things properly, it would have done well.
SE: Many people have blamed Zanu PF infiltrators for causing most splits in opposition parties, do you subscribe to that?
SSPN: I think it's correct. Do not play with the Central Intelligence Organisation. (Former President Robert) Mugabe created that for a purpose, that is why at the start of a campaign period for an election, there is mushrooming of political parties and as soon as the elections are over, they disappear. I believe some of these parties are sponsored by the regime (Zanu PF). Infiltration has happened, even in NPP, and MDC. It has happened in all political parties; it has happened. This I think they copied from Russia. Even looking at some of them, we can tell that so and so might be a CIO operative.
SE: Do you think the opposition has any chance of winning the polls as long as Zanu PF is still active?
SSPN: My honest opinion is that the progressive opposition political parties, need to come together inspite of infiltration. Because if all political parties you know — there were 22 political parties who claimed to be opposition — so if all of them came together and selected one presidential candidate, they would have won against Zanu PF. Can you see Chamisa had two million voters and Mnangagwa had just over two million votes, so if all had come together, the opposition would have won.
SE: Now you have retired from politics, what are your future plans?
SSPN: First of all, I think I also regret my involvement in politics. It made me neglect some of my church duties, because I would not be involved in my church duties as politics would take me all over. Secondly, I am going to be writing a book of the 58 years I was in politics, 14 years in prison. No one has written anything about what was happening inside prisons and detention at that time. So I intend to write a book. This book will include my 58 years in politics. I obtained my first degree in prison. I will do two things, my duties at church, the Seventh Day Adventist and writing a book.
SE: Most of the politicians, when they retire from politics, say they will be going into farming and I thought you will be doing the same thing. Do you have a farm?
SSPN: I do not have a farm.
SE: Why don't you have one?
SSPN: I was not Zanu PF, I have never been Zanu PF in my life and even if I wanted to have the farm, I did not want a situation where a farm is taken from someone and given to me. I did not want that. So I cannot be involved in something like that. They were taking these farms from whites.