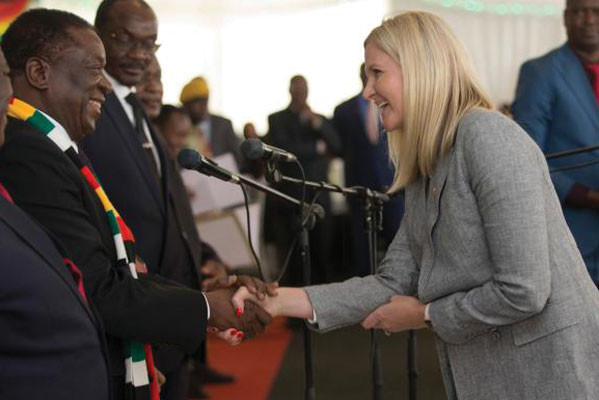 THE new Cabinet that was sworn-in at State House last week had Zimbabweans across the political divide showing positivity that President Emmerson Mnangagwa's new 20-member team would immediately hit the ground running to stabilise the country's socio-economic environment in the shortest possible time.
BY STAFF REPORTER
But the main focus is on renowned banker-turned Finance and Economic Development minister, Mthuli Ncube, whose major tasks include restoring economic stability to attract investor confidence, improving the liquidity situation, curbing the ballooning domestic debt and the parallel money market.
The Cabinet, comprising of young technocrats and the old guard, comes at a time Zimbabwe is going through a litany of challenges, chief among them the economic meltdown that has triggered cash shortages and high unemployment levels.
The liquidity crisis has accounted for the upsurge of the parallel market and a multi-tier pricing system.
Economist Prosper Chitambara said the Cabinet would only perform to its best if there was political will by the executive and a competent technical staff to implement its programmes.
"I think what they must do is to bring back confidence into the economy and what that entails is to have quick institutional reforms to bring back that confidence.
Our key institutions of economic governance need to be reformed quickly so that people have confidence in the economy and the way they are managed.
These include the parastatals and property rights.
They affect confidence and of course there must be political will to deal with corruption and State capture in key institutions," Chitambara said.
"I think this is a good Cabinet and I am sure what needs to be done as well is to have good permanent secretaries manning the ministries because that is the technical staff.
I think if given the space to make the right policy decisions, it will have a positive impact on the economy."
Admire Mare, a Zimbabwean academic based in Namibia, said the new Cabinet should focus more on infrastructure rehabilitation and development.
"There is also need to revisit our safety net programmes for the poor households and those living with disability.
If you walk around the central business district you come face to face with people living with disabilities who are begging.
This situation must urgently be addressed," Mare said.
He called for a revisit to the educational curriculum as well as to invest more in vocational training and to ensure that institutions of higher learning are able to churn out graduates with the requisite skills to lead the country's fourth industrial revolution.
"Job creation is one area where the Cabinet has to come up with a 'war-room' tasked with the role of spearheading the reopening of closed factories and start-up hubs where unemployed graduates can be at the centre of software and hardware design and production," Mare said.
Union for Democracy executive director James Katso said if provided an opportunity, Mnangagwa would have picked most of his ministers from outside Parliament in order to drive his turn-around vision effectively.
Zanu PF's deputy youth secretary Lewis Mathuthu called on citizens to give Mnangagwa's new brooms a chance to prove their capabilities and judge them by their achievements.
"The President went beyond political affiliation and considered capacity more than anything else; he considered reputation and experience in specific areas like finance where he appointed an experienced banker and economist who is passionate about rebuilding the country.
There is hope that the economy will start to boost," Mathuthu said.
"There are those who say negative things, but there are certain people who just must be ignored because we will end up losing focus.
Those who are progressive will tell you that we have the best," he said.
Opposition MDC-T deputy president Obert Gutu challenged the new Finance minister to prove his mettle and implement strategies that will rescue the country in the shortest possible time.
"The new Cabinet should immediately get its hands very, very dirty.
I expect Finance minister Mthuli Ncube to trigger far-reaching financial reforms in the short-term.
The bond note should be demonetised like yesterday. The bond note experiment has been an embarrassing flop.
"Within the next 100 days, we expect the foreign currency parallel market to be decapitated. Government should properly and strategically repeal the Indigenisation Act in order to stimulate sustainable domestic and foreign direct investment."
Gutu said Mnangagwa must appoint a team of capable and credible permanent secretaries in key ministries to drive his vision for a middle-class economy by 2030.
Vendors Initiative for Social and Economic Transformation leader Samuel Wadzai said focus must be on creating jobs and strengthening the informal sector.
"The Finance minister must focus on ensuring financial inclusion of the informal sector.
There has been general lethargic and slow acceptance of the informal sector, in particular street vendors, as an alternative employment avenue by the previous government.
We want solid and inclusive initiatives to support the formalisation and growth of the informal sector," he said.
Community Water Alliance executive, Hardlife Mudzingwa, called on Finance minister to allocate at least 10% of the 2019 National Budget towards provision of water and sanitation facilities to curb the spread of cholera which has so far claimed 28 lives in Harare, leaving 5 000 others hospitalised.