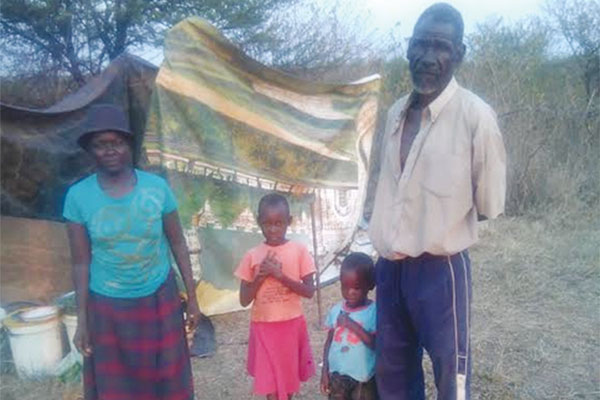 A SIX-MEMBER family has been rendered homeless after being evicted by the messenger of court from its Esiphezini Ngwabi village home near Vuka Vuka Mine in Esigodini on Monday afternoon and dumped in the bush in Nhlonzamandla on allegations that they were illegal settlers.
BY SILAS NKALA
Tonny Ndlovu (59), his wife Bianca Mangoye and their four children aged three, eight, 13 and 16 are now living in the open, while three other families face a similar predicament. This was after they were told they were staying on a mining block leased by the David Sean Richard Jacobs-owned mine, which is on an expansion drive.
When the Southern Eye news crew visited the family in Nhlonzamandla, the couple revealed that they were sleeping in the open and had run out of food.
Ndlovu said they settled at Ngwabi Village three years ago. In 2016 Jacobs filed summons against four villagers who had settled on the land.
Jacobs stated he had inherited the registered Vuka Vuka mining claims in Esiphezini, Esigodini, from his late father.
"The defendants, acting in common purpose have illegally allocated themselves residential stands within the plaintiff's mining claims and started erecting permanent structures. The defendants have no legal right to do so. Consequently, plaintiff seeks an order for the eviction against them and those claiming occupation through them and costs of suit," read the claim.
The order to vacate the place was granted at the Esigodini Magistrates' Court in June and on Monday the messenger of court, armed with an eviction order descended on Ngwabi village and evicted Ndlovu's family.
In an interview, Ndlovu said it was highly unlikely that he would build a new home before the onset of the rains.
"We were staying at that place for three years. We sought land to build our home from the village head Billy Mthombeni. Vuka Vuka Mine owners are now saying it's their claim. The messenger of court armed with these papers came and threw our belonging out of the home before loading them and us into a truck and dumping us here," Ndlovu said.
"We were evicted on Monday afternoon. We are planning to start building our home here, but I am not well, I do not know how I will do it before the rains."
His wife, Mangoye, said they had run out of food and that their family was exposed to the weather elements.
"It's painful what they did to us. We appeal to well-wishers to assist us to put up a structure where we can sleep and put our belongings. Our concerns are about our innocent children, they are not safe without shelter," she said.
The founder of Umalusi-Mupfudzi non-governmental organisation, Wellington Hadebe donated some food to the stranded family. The NGO monitors elected officials — from council to House of Assembly — to check if they are delivering on their election campaign pledges.
"What has been done to these people is inhuman. We should not allow people to be treated like this in a free Zimbabwe," he said.
"At least in evicting them they should have provided them with an alternative place. We understand that this was done in a legal way, but it should have a human face to it. We urge the government that even if they are dealing with illegal settlers, they must have a human factor in mind."
Hadebe said it was unfortunate that the families were settled in the area as a vote-buying gimmick.
The remaining three families have up to Friday to vacate the land.