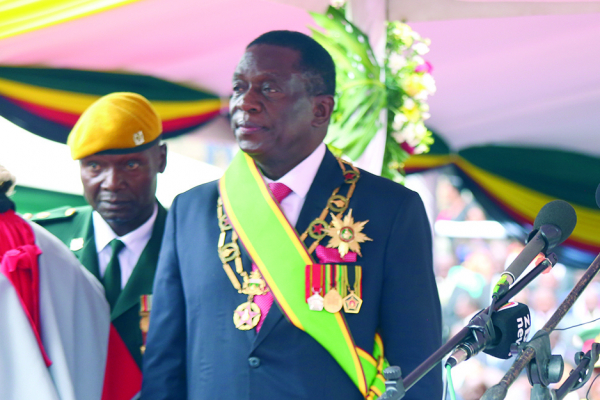 PRESIDENT Emmerson Mnangagwa faces the prospect of being heckled by opposition members of the National Assembly when he opens the Ninth Parliament today, a sign that the country remains deeply polarised along political lines following a divisive election two months ago.
By Veneranda Langa/Blessed Mhlanga
Mnangagwa won the disputed July 30 vote when the Constitutional Court (ConCourt) dismissed a challenge by the opposition MDC Alliance leader, Nelson Chamisa.
But the election, which was touted as a crucial step towards shedding the pariah reputation that Zimbabwe gained under Mnangagwa's predecessor Robert Mugabe, and securing international donor funding, exposed the deep fault lines between the political leaders while the post-election unrest during which the army killed seven civilians earned uncomfortable comparisons with its violent past.
The 75-year-old leader is under pressure to rebuild a struggling economy suffering from lack of foreign investment, unemployment above 80% and acute cash shortages.
Chief Justice Luke Malaba, who presided over the ruling at the ConCourt was last week left visibly shaken by the heckling from the opposition MPs who labelled him a "thief" when he came to Parliament to swear in presiding officers of the House, as was the Zimbabwe Electoral Commission chairperson, Justice Priscilla Chigumba, who presided over the election of the officers.
Yesterday, Zanu PF legislators were reportedly trying to reach out to their opposition counterparts to avoid embarrassing the Zanu PF leader.
The MDC Alliance leader of the House in the National Assembly, Thabitha Khumalo told NewsDay that members of her party will attend the proceedings but in protest over 'stolen' elections.
"We are definitely going to attend the official opening of the First Session of the Ninth Parliament, but what is going to happen there will be determined by the leadership. You will see what is going to happen there when the time comes." Khumalo said.
"Our Constitution gives MPs the right to heckle, and people must understand where we are coming from.
Elections were stolen from us," Khumalo said.
Mkoba MP Amos Chibaya added: "He (Mnangagwa) is an illegitimate President and so we expect nothing from him.
He does not even have a right to officially open Parliament as he was imposed upon us by the courts."
Asked if they intended to embarrass the Zanu PF leader, Chibaya said: "Wait for tomorrow and you will see what we are going to do.
We are not in the habit of divulging secrets."
Speaker of Parliament Jacob Mudenda, who is also a Zanu PF member is reported to have warned MDC legislators through their chief whip Prosper Mutseyami against embarrassing Mnangagwa when he delivers his opening address.
Mutseyami confirmed that he had been approached over the behaviour of legislators from his party ahead of the official opening, but would not give details.
"We have been engaged over allegations that we want to heckle the President when he delivers his speech, I don't know where it is coming from but it is not like we have said we will be heckling him, but for the finer details it's best you speak to the Speaker because he was the one chairing the meeting," Mutseyami said.
Mudenda said all matters discussed in Parliament, remained in-house and would not be shared with the Press.
"I can't discuss that because it was in-house, we had housekeeping issues and we discussed them in-house I therefore can't share those with the Press," he said.
Mudenda said he could not predict the behaviour of the legislators ahead of the official opening of Parliament, insisting that legislators acted individually and not as a unit.
"I can't predict behaviour when it is personal, I therefore don't know how the legislators will act when the President opens Parliament," he said.
Some MDC Alliance legislators who spoke on condition they are not named said there were plans to embarrass Mnangagwa.
"The plan to heckle and make sure that his speech is drowned and frowned upon has been laid out, what is not yet clear is whether it will be carried through following the meetings that have been taking place since morning," the legislator said.
MDC Alliance spokesperson Jacob Mafume said Mnangagwa's speech must deal with issues of his legitimacy and deployment of soldiers in the streets that shot dead unarmed civilians.
"If he does not deal with those issues, then he will be trying to pretend as if his government is operating normally.
He should set an agenda for electoral law reforms; and other reforms that will assist to stimulate the economy, as well as the implementation of devolution," Mafume said.
He said political reforms must be on Mnangagwa's agenda as well as how he will engage with all stakeholders, as well as address corruption.
Zanu PF deputy chief whip in the National Assembly Obedingwa Mguni said he was expecting Mnangagwa to dwell on economic development and government plans to achieve vision 2030.
"Mnangagwa has good ideas on how to improve Zimbabwe into a middle-class economy, and his speech must clarify that vision," Mguni said.