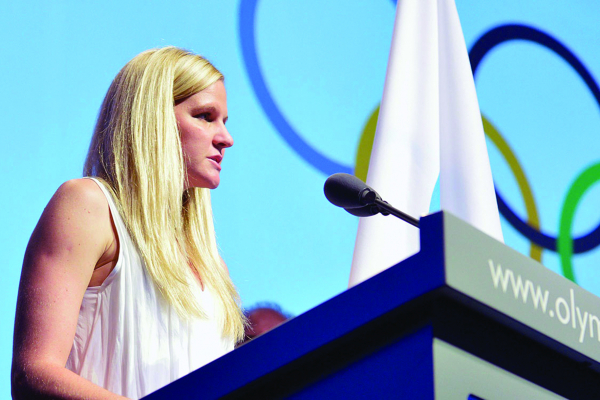 Kirsty Coventry as Youth, Sport, Arts and Recreation minister was certainly a left field appointment by President Emmerson Mnangagwa as part of a Cabinet that contains a few surprises.
NEWSDAY EDITORIAL
Her appointment has caught the most attention, after that of Mthuli Ncube as Finance minister, not least because unlike many of her predecessors, she was a sportsperson and actually made a living from her chosen profession of swimming.
She was competing as recently as the 2016 Olympics — her fifth —before retiring having won the joint-most individual medals in women's swimming in Olympic history and Zimbabwe's most decorated Olympian and sportsperson.
Coventry is the chairperson of the International Olympic Committee (IOC)'s Athletes Commission — which represents the interests of athletes in the IOC — after having been a member of the commission since 2012. She is also a vice-president of the Zimbabwe Olympic Committee, a position to which she was appointed last year. Coventry also serves on the World Anti-Doping Agency and she is a vice-president of the International Surfing Association and a member of FINA, the world swimming body.
At 35, she is young enough to connect with Zimbabwe's disaffected youths and reflect the new thinking Mnangagwa is seeking to foster in his Cabinet. So for the first time, Zimbabwe has a Sports minister who actually knows how modern sports work.
At her swearing-in ceremony yesterday, Coventry talked of reviewing the work previously done by her predecessor, Kazembe Kazembe, meet her new team and work out priority areas.
But, for someone who has been dubbed Zimbabwe's "national treasure" and "golden girl", she knows that sport is not a hobby, but also a major business and a national rallying point.
Which begs the question: Is she ready to deal with the mess that is in Zimbabwe's sport and the cartels that are running it? It's not surprising that sponsors have for most part shied away from dealing with the mafia-style barons of our sport.
Football under Philip Chiyangwa is in a mess, without a grassroots programme and infrastructure crumbling. Lack of sponsorship has left many clubs struggling to stay afloat and players are poorly remunerated, with the exception of those that are owned by companies that are doing well. National teams struggle to travel for games and often, players have to go without allowances or decent accommodation. The women's game has all, but disappeared.
Another favourite pastime, cricket is in a spin, with the governing body Zimbabwe Cricket now dependent on handouts from the International Cricket Council. Player strikes have become the order of the day and in the most recent series against Pakistan, the country had to do without most of its senior players as a result. Coventry also needs to deal with the underlying racial undertones in the management of the game and selection of the players. Rugby has also suffered the same consequences of lack of funding as there has been no national league running over the past two years.
The issue of piracy in the arts sector cannot be overemphasised.
Athletics too needs some fresh air. She may well be the last swimming star from the country unless facilities improve. Even the Kirsty Coventry Academy is not enough.