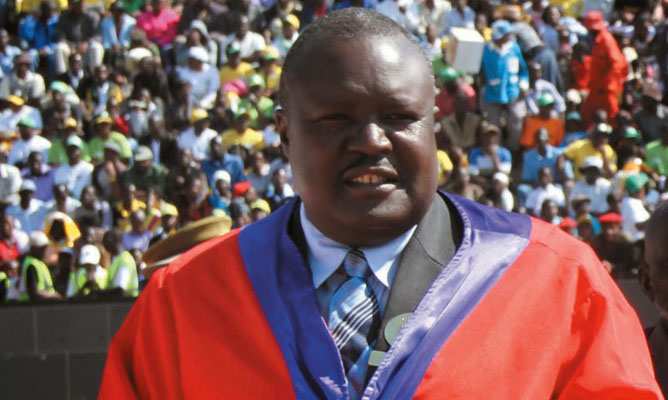 WOMEN attending the 2018 Sadc People Summit in Windhoek Namibia have called on the region's governments to respect women's rights and to ensure that females are included in powerful institutions such as chieftainships.
By VENERANDA LANGA
A statement from the Southern African People's Solidarity Network (SAPSN) says females attending the summit suggested in a communiqué presented to incoming Sadc chairperson Namibian President, Hage Geingob that there was need for Sadc countries to include women in developmental issues, as well as in land rights.
"We note with concern the exclusion of women in developmental processes and traditional leadership, and structures that do respect the voices of the marginalised groups," the communique read.
"We are also outraged by customary land distribution patterns that predicate women's access to land."
President of the Chiefs Council in Zimbabwe Fortune Charumbira told Southern Eye that throughout the continent, and not only in the Sadc region, there were fewer female chiefs compared to males.
In neighbouring Zambia, they were only 30 female chiefs out of a total of 288.
"In Zimbabwe currently, we have five female chiefs out of a total of 286 chiefs, but that is the pattern in other countries in Africa. In other countries, there is not even one female chief," he said.
Chief Charumbira said 20 years ago, there was only one female chief from Gwanda in Matabeleland South province.
He said the numbers of female chiefs were low because of cultures that were slow in opening up to accepting female chiefs.
"However, we also accept that an increase in the number of female chiefs is good for our image as the Chiefs Council, and to show that we want to have the other side of gender dimensions in our chiefdoms," Chief Charumbira said.
He said female representation was low, not only in chieftaincy, but also in other sectors such as Parliament and local authorities.
However, he took a dig on representatives of different groups attending the Sadc People's Summit, saying they were making appeals to the wrong people.
"I am disappointed by non-governmental organisations representing people at the Sadc People's Summit because they do not want to engage with the institutions that must deliver that change like the Chiefs Councils in their countries. They jump to go to raise those issues, directing them to Heads of States instead of chiefs," he said.