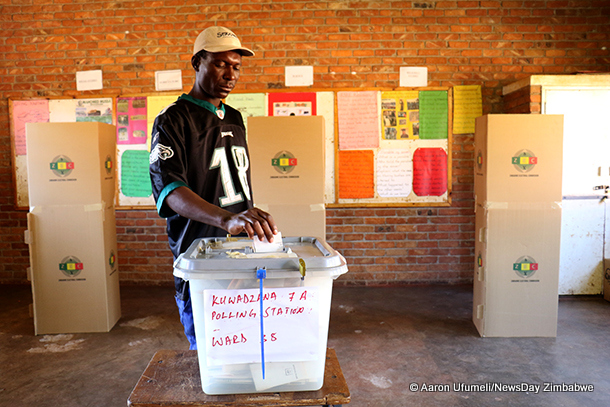 THE underfire Zimbabwe Electoral Commission has redesigned the structure of the polling booth so that voters cast their vote in the full glare of election officials, a development likely to compromise the secrecy of the ballot. BY NUNURAI JENA
Zec Mashonaland West elections officer Austin Ndlovu confirmed the new set-up yesterday, saying it was meant to discourage voters from taking pictures while in the polling booth.
In previous elections, the voting booth faced the wall, with the voter able to vote without anyone closely watching. "There is a shift to the traditional set-up, where the voting booth faces the wall. This time around, the booth will be in front of election officials at a distance that they will not see how the voter is voting," he said.
"This was done to avoid unscrupulous people who are in the habit of abusing social media by posting how they would have voted."
Zimbabwe Election Support Network (ZESN) chairperson Andrew Makoni blasted Zec for compromising the secrecy of the ballot.
"It defeats the whole purpose of upholding the secrecy of the ballot. Someone can actually see whether someone voted on top or at the bottom from behind," he said
Election Resource Centre director Tawanda Chimhini was more blunt, describing Zec as the greatest threat to a free, fair and credible election.
"What reasons Zec is giving is nonsensical. Actually, Zec is the greatest threat to a free, fair and credible elections in the country," he said.
"When everyone in the world is moving towards making the secrecy of the ballot a priority, Zec is trying hard to do the reverse."