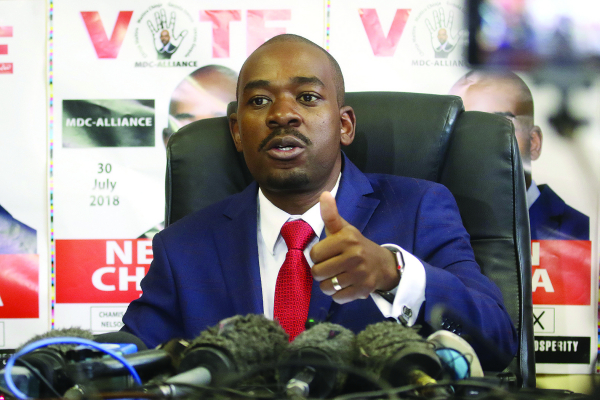 MDC-Alliance president Nelson Chamisa yesterday remained adamant that they were not going into an election without testing the ballot papers.
BY KENNETH NYANGANI
Chamisa claimed the Zimbabwe Electoral Commission (Zec) officials told the MDC Alliance during a meeting yesterday that the electoral body received orders from President Emmerson Mnangagwa not to compromise on the issue of the contentious electoral reforms.
He made the remarks yesterday while addressing thousands of his party supporters at Vengere Stadium in Makoni Central constituency, where he claimed that Mnangagwa wanted to trap him by forcing him to go to the courts to challenge the issue of the contentious voters' roll.
Mnangagwa has, of late, been challenging Chamisa to approach the courts if he had any issue over next Monday's crunch polls.
"This is a historic moment and you are attending this rally in your thousands. Today, I was in a meeting and I sent our leaders our chairman Morgen Komichi, secretary-general Douglas Mwonzora and chief election agent Jameson Timba. We told them that we are not moving on our terms over the ballot papers," he said.
"Zec responded by saying that Mnangagwa told them not to compromise over the matter. Zec told us that they are responding by sending ballot papers to their stations. What it means is that Zec is driving this country into instability. This means that both Zec and Zanu PF are bedfellows in destroying this country."
Added the main opposition presidential candidate: "We told them we are approaching Sadc and say that we are deadlocked. But we are not going to boycott this election since we know that we won this election and it's a delayed match.
"Mnangagwa told us that we should go to court. We are not fools. You want to trap us and people are the ultimate courts of this country."
He dared Mnangagwa to come out clean and declare that his hands were clean.
Chamisa said heads would roll next week at the Zimbabwe Broadcasting Corporation and Zimbabwe Newspapers for siding with Zanu PF, while denigrating opposition parties and leaders.