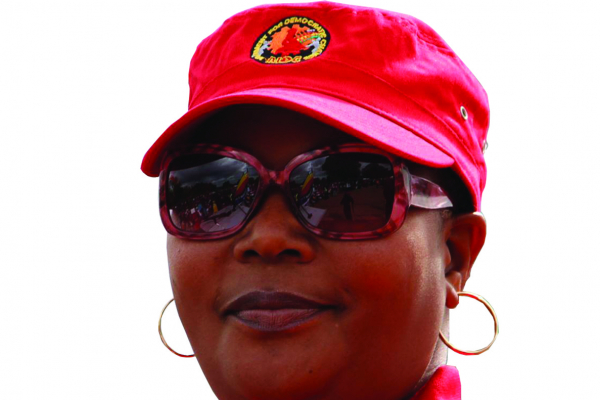 SOCIAL media attacks on political opponents have become the new form of abuse due to global technological advancements, with female politicians becoming the worst affected.
BY VENERANDA LANGA
A study by the United Nations on the issue of social media as implements of violence against women in elections estimated that 95% of aggressive behaviour, harassment, abusive language and denigrating images in online spaces are aimed at women.
It revealed that during the post-election violence in Kenya in 2008 to 2009, persons that were tribalistic and politically partisan used social media to send messages to female politicians, threatening bodily harm, rape and even death.
"By breaking into a traditionally masculine field that is frequently associated with rough behaviour and corruption, women are exposed to sexualised and, or morally degrading criticism. Derogatory accusations of being a prostitute, a lesbian or otherwise sinful and, or sexually deviant are commonly levelled against women running for office in many countries," the UN journal said.
"These moral attacks often carry much greater social costs for women than for men because of the implications they may have on the victim's children or because of the existence of double standards as far as what constitutes 'moral behaviour' for male and female politicians, that is, branding mommy 'a whore' may imply she is unfit for office while calling daddy 'a philanderer' may not be considered as serious an offence, or may even infer virility and strength."
Investigations by NewsDay in conjunction with the Voluntary Media Council of Zimbabwe (VMCZ) investigative fund on elections reporting revealed that social media attacks on female Presidential aspirants were rife.
When sitting legislator Jessie Majome decided to run again for Harare West as an independent candidate, but also claimed that she will support her party President Nelson Chamisa for Presidential elections, social media users had no kind words for her.
"This woman is confused, her action is like divorcing a man, but at the same time telling him that you will service him whenever he wants to," one user commented.
The hardest hit was former MDC-T deputy president and faction leader Thokozani Khupe who suffered serious social media attacks such as abusive language. The social media comments posted on stories and posts wherever Khupe's name was mentioned were so obnoxious that some people even used unprintable insults to drown her political spirits.
Recently, when Khupe mispronounced the word "categorically", she became an instant joke on social media which was circulated on every social media platform like Facebook and Whatsapp.
"There was a lot of abuse on social media and she had to delete some of it. There is so much hate speech, and its manifestation was even worse whenever she made Court appearances to fight to retain the MDC-T logo for her faction. She has been heckled and called unprintable names," Khupe's spokesperson, Witness Dube, said.
He said some of the verbal abuse included Khupe being called a 'prostitute', and the same kind of insult was even meted on some of her female supporters.
"Khupe has also been ridiculed for being a single woman and this has been used to question her appropriateness as a Presidential candidate," Dube said.
After the heckling of Khupe at the Harare Supreme Court, legal expert Alex Magaisa said: "I just saw a video of a group chanting derogatory terms to Khupe. This behaviour is wrong in every sense. Whatever grievances there are, that is not the way to behave. The leadership must condemn this loudly and activate the disciplinary mechanism."
Human rights activist Dhewa Mavhinga also noted that "Sexism, violence, and harassment of political opponents must stop."
Journalist Mduduzi Mathuthu rapped such abuse, saying the "chants by a small group of MDC-T supporters describing Khupe in obscene terms were sickening. She can't be a hure (prostitute) for holding different thoughts politically."
News stories posted on social media portals like Facebook where Khupe and Chamisa were mentioned revealed that there was a lot of abusive language and hate speech on Khupe. For example, a story posted on the Voice of America Facebook page titled 'Khupe, Chamisa MDC formation in Court over Party name' attracted a barrage of insults for Khupe.
Some of the comments were so serious to the extent they suggested that Khupe must be killed.
"If the Courts rule to your favour, Povo will stone you to death," read one of the nasty comments on Khupe.
"The only thing is to beat her up, 'dog', 'prostitute'," read another comment.
Another story posted on Facebook by Nehanda Radio titled 'I'm the MDC-T Acting President: Khupe' also had comments meant to demean her.
"Khupe is opportunistic, tribalist, sexist," one of the comments read. Another comment said, "Nowhere does the Bible mention women as leaders".
Nomvula Mguni, a proportional representation MP, who crossed over to Khupe's faction, said a lot of vulgar terms were used on her and Khupe.
"The other method which has been used to try and deter me and Khupe is to use vulgar terms and to call us names like 'prostitutes'," she said. "Calling me with vulgar terms will not deter me."
Khupe's supporters now feel that the Cybercrime and Cyber Security Bill must be crafted as at yesterday to curb social media hate speech meted on political opponents.
Dube said if the Cyber crime and Cyber Security law is crafted, it will curb different forms of abuse using computers. The Bill covers wide ranges of threats to the state, state infrastructure, to individuals, data, and devices.
"We believe that laws that apply to social media such as the Cybercrime and Cyber Security Bill should be automatically triggered so that people that use social media to abuse others are shamed," Dube said.
He said the Zimbabwe Electoral Commission must hold regular meetings with candidates to ensure they desist from use of hate speech. Dube said the ZEC code of conduct for political parties must be improved.
National People's Party (NPP) and Rainbow Coalition leader Joice Mujuru has not been spared from social media attacks. Some of the attacks were posted on her official online Facebook page.
Mujuru had posted that her supporters had been pelted with stones in Kuwadzana by MDC-T supporters and this was followed by very nasty comments.
"The widow should retire from politics, she looted," read one comment, followed by another which read, "Shut up you have no following. Without Chamisa you are nothing."
Women in Politics Support Unit executive director Sakhile Sifelani-Ngoma said she noted with disdain that no one had been prosecuted to date for physical and cyber violence on female candidates although it was rampant.