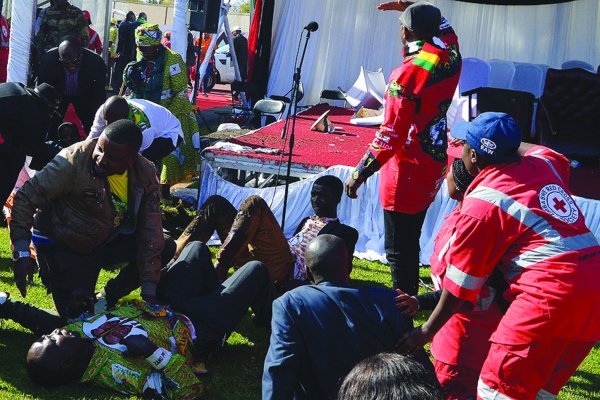 PRETORIA — As long as there have been revolutions, there have been counter-revolutions.
Mail & Guardian
Whatever the nature of political change, someone always wins, and someone always loses — and usually, the losers fight back.
Over the last six months, both Ethiopia and Zimbabwe have gone through shattering, seismic changes to their political systems.
In Ethiopia, massive popular protests against the government prompted the resignation of the prime minister and the appointment of a new one, Abiy Ahmed, a young, energetic politician from the historically marginalised Oromo ethnic group.
Although he has been in charge for less than three months, the pace and scale of Abiy's reforms has left even his supporters in shock.
He is, according to the Financial Times, "Ethiopia's Mandela".
"Abiy has overseen the release of thousands of political prisoners, ended a state of emergency that was imposed to quell two-and-a-half years of deadly anti-government protests, and announced an economic liberalisation plan, including partial sale of State telecom and airline assets. More recently, he has reorganised the once-untouchable intelligence services and admitted publicly that the authoritarian government has committed acts of torture and terrorism on its own people," the publication wrote.
President Emmerson Mnangagwa is a little older — 75-years-old compared to Abiy's 41 years — but his brief tenure has been no less revolutionary, not least for the simple fact that Mnangagwa is not Robert Mugabe, who ruled the country for nearly four decades and was expected to leave office only in a coffin.
Change is much slower in Zimbabwe and not all of it is necessarily positive, but it is happening: opposition parties have been allowed to campaign relatively freely, the government is aggressively courting foreign investment, and Parliament has promised to get tough on fighting corruption.
Behind the scenes, Mnangagwa and Vice-President Constantino Chiwenga, the former army chief, are realigning the security forces to dilute the power of the police and the feared Central Intelligence Organisation.
So far, so smooth. But on Saturday, twin explosions in Addis Ababa and Bulawayo shattered any illusions that political change is easy.
In Addis Ababa, Prime Minister Abiy was addressing an enormous audience of supporters in Meskel Square, the heart of the capital city, when an explosion ripped through the crowd. At least two people died, and 156 were injured. Abiy himself was unhurt.
Several hours later — and 4 600km away — Mnangagwa had just finished addressing a rally in Bulawayo when another explosion went off.
He escaped unscathed, but Chiwenga's wife and other senior figures were among the 49 injured.
Mnangagwa described the attack as an assassination attempt, and hinted that his rivals within the ruling elite may have been responsible.
"These are my normal enemies. The attempts have been so many. It's not the first attempt on my life," he said.
We don't know yet who is behind either blast, or what the motivations of the attackers might have been.
There is no suggestion that the attacks are in any way linked. But what we can conclude, with a fair degree of certainty, is that the attacks come in response to the enormous structural changes taking place in both Ethiopia and Zimbabwe.
By targeting such crowded areas, in such close proximity to the new heads of state, the attackers were sending a clear message that change will not be easy; that reforms come at a price.
There will now be a temptation from both heads of state to deal with their enemies: to declare a state of emergency, or to arrest indiscriminately, or to use the violence to justify a return to the old school autocracy which has long been a hallmark of both states.
This would undo all the good work that has been accomplished so far, and reveal their true intentions for their respective countries.
This, then, is the real test of both Abiy and Mnangagwa's reformist credentials.
The tragic explosions will force them to show their colours, and show us if they are genuinely committed to the change agenda they espouse, or whether their proposed reforms were simply an engine for good propaganda.