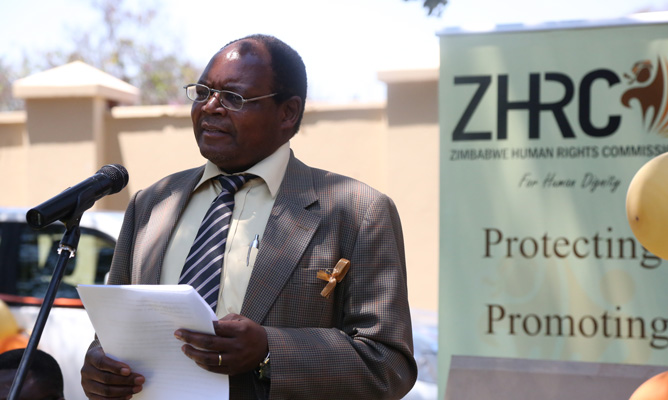 The National Peace and Reconciliation Commission, which is a Chapter 12 Independent Commission with the mandate to foster national healing in Zimbabwe, needs to have it's 10-year mandate reinstated if it is to fulfil its Constitutional mandate.
Speaking during the Knowledge Exchange Seminar for civil society and Independent Commissions in Bulawayo on Friday organised by the Zimbabwe Human Rights NGO Forum, the Zimbabwe Human Rights Commission and ZimRights Association, ZHRC Chairperson Commissioner Elasto Mugwadi said that time had been wasted as the NPRC Act was only passed this year, yet it was established by the Constitution in 2013.
"It is in the interest of the people of this country that the 10-year period of the NPRC be practically re-instated. Even though they were supposed to start their work in 2013, there were administrative challenges," said Mugwadi.
"Therefore pressure has to come from all of us to say, No, the 10-year period has to be commuted from the day they start to implement their mandate. I am sure the powers that be will listen to that," he said.
The NPRC is now in its fifth year, as it was constituted in 2013, but it only began outreaches this year, which means half of its mandate has already been wasted.
The NPRC is facing a mammoth task, with violations being considered from as far back as the Mapungubwe Kingdom, in the 11th and 12th centuries, to present.
National Transitional Justice Working Group (NTJWG) Vice Chairperson, Paul Themba Nyathi, said that Zimbabwe had never had a genuine opportunity for national healing. "As a country we have never dealt adequately with the past. People are still hurting with issues from the liberation struggle, Gukurahundi, or even the 2008 electoral violence. The NPRC is a good step to attain justice and national healing, and it faces an enormous task" said Nyathi.
Commissioner Leslie Ncube, who is with the NPRC, said that they had written to the Attorney-General's office to clarify on start date of the Commission.
The Forum Executive Director, Blessing Gorejena, said that the knowledge exchange seminars were bearing fruit because they were not only meant for dialogue between civil society and Commissions, but also between Commissions themselves.
"Tremendous progress has been realised since introduction of the knowledge exchange seminars. Besides interface between civil society and independent Commissions to find areas of collaboration, they are also meant for dialogue between Independent Commissions themselves.
"The way different Commissions are handling the NPRC issue is a case in point. In fact, we want to see cross-referral of issues, for example, if ZHRC receives complaints of gender violations, we want them to refer the issues to the Gender commission," Gorejena said.
She said that Commissions are facing similar challenges.
"Commissions are facing the same challenges; teething problems from infancy, meagre resources, lack of political will and also lack of acceptance by Zimbabweans and by sharing experiences they can surmount some hurdles," said Gorejena.
She also applauded the trust that now exists between CSOs and Independent Commissions.
"We now have built trust with independent commissions, and there are many opportunities for collaboration in the pursuit of the goal of good governance, transparency and for Zimbabweans to enjoy their full democratic rights," said Gorejena.
Other Commissions present were the Zimbabwe Electoral Commission and the Gender Commission, while some of The Forum members such as the Zimbabwe Lawyers for Human Rights, Transparency International, Legal Resources Foundation were in attendance.