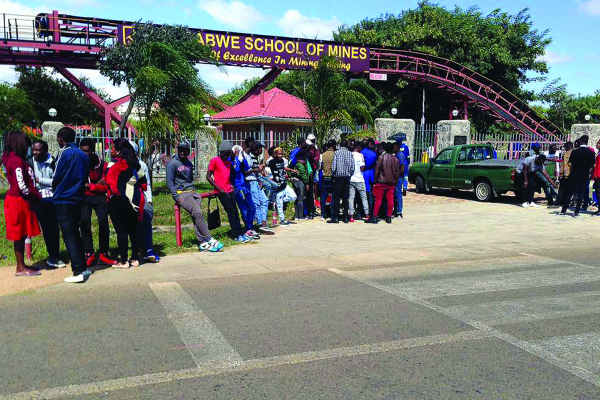 ZIMBABWE School of Mines students staged a protest at the college campus in Bulawayo yesterday, complaining over high tuition fees and the chief executive officer's alleged corruption.
BY ALEXIS SIBANDA
The students said the college needs to be audited like any other institution because the fees were too high, yet standards were deteriorating.
"We are paying $2 084 tuition fees per semester, but we do not see any developments at the school. They want fees paid in full on the first day, while they are not able to give us the infrastructure that is equal to the fees paid," a student, who requested anonymity, said.
"Even if you pay half of the required fees, you will not be allowed to register for the examinations."
Another student said they were being robbed of their attachment money.
"We are not receiving any forms of allowances even on attachment and they expect us to be happy about that. Zimbabwe Manpower Development Fund money that is meant for us is never given to us and we ask ourselves, where the money is going to," a student said.
"Student representatives are mandated to represent us, as students because they were chosen by us. Surprisingly, they are now siding with the administration and failing to represent us as students," another student said.
Students said the CEO, Dzingai Tusai always dismissed their grievances and they demanded that he should step down.
"The CEO has failed us as students because we do not even see the reason why we pay fees. Our institution is only beautiful from the outside and it is not matching the fees that we pay," he said.
One of the student representatives, who spoke on condition of anonymity fearing victimisation, confirmed the stand off between the school administration and the students yesterday.
"The institution's fees is too high and there are no payment plans," the student leader said.
"Students are not getting value for their money because basic resources are not enough at school. Basically, school equipment is not enough, ranging from the desks, chairs, the equipment does not match the amount of fees being paid."
The student representative said they have limited powers and that is why they cannot protect fellow students.
"Activism in our school is limited compared to other institutions. As student leaders, you are told that you under that administration and you will be obliged to do what the administration says," he said.
Contacted for comment, Tusai said it was not a demonstration per se, but students just needed clarification on few things.
"We cannot say it was a demonstration. Students just needed a clarification on a few things and as the administration and the student representative council, we have been discussing on how best those students can be helped," he said.