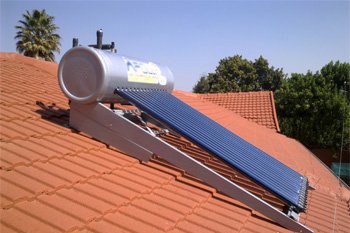 GOVERNMENT will, in the next two weeks, introduce legislation to compel households to use solar-powered geysers, as it moves to regulate electricity consumption. BY TATIRA ZWINOIRA
Speaking yesterday in Harare at the official ground-breaking ceremony of constructing the Zimbabwe Energy Regulatory Authority's new headquarters in Mt Pleasant, Energy and Power Development permanent secretary Patson Mbiriri said solar water geysers would reduce energy consumption within households.
"My ministry is also promoting the uptake of solar water geysers under the National Solar Water Heating programme. In fact, the draft regulations have just come back from the Attorney-General's Office ready for gazetting, so exciting times. As I said, we are just about to hit the bridge and shake it. The regulations on solar water geysers will be gazetted in the very near future," he said.
"Usually, when you hear a technocrat saying 'in the very near future', be wary of what they mean. But, in this particular instance, we are talking about in the next week or two, certainly not beyond, so it will certainly be in the very near future."
Mbiriri said electric geysers consumed about 40% of power at a household level, which was being wasted and not being used productively, hence, the solar geysers initiative.
Most of the electricity costs in households come from the use of geysers which reach peak usage during winters.
Apart from that, geyser usage peaks in the morning.
In December 2017, the government said it was mulling a ban on electrical geysers due to their power consumption, reporting that the country has 140 000 electrical geysers. A ban on these would save at least 280 megawatts of electricity.
In an endeavour to promote the uptake of renewable energy, the government is also in the process of promulgating net metering regulations which will enable excess power from rooftops solar PV projects to feed into the electrical grid on agreed terms.
The idea behind having the excess electricity feed into the grid was to bolster power distribution in the country and increase the current levels while saving on importing electricity.
"In fact, we have a structure in Graniteside, which is already connected to the grid and feeding the grid from a rooftop . . . exciting times indeed in the energy sector as we deploy more solar," Mbiriri said.
"Rooftop solar PVs reduce consumers energy bills, provide energy security at consumer level and have a long term impact, as they reduce transmission and distribution losses as well as replace expensive spend by using diesel generators."
He said his ministry was advocating energy efficiency.