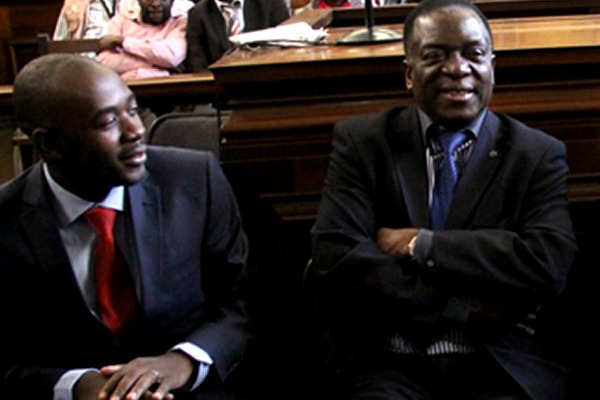 OPPOSITION leader Nelson Chamisa is pushing for a face-to-face meeting with President Emmerson Mnangagwa to demand that the army publicly renounces its previous declaration that it will not salute a leader without liberation war credentials.
BY RICHARD CHIDZA
Chamisa's push comes days after the European Union said it had approached the government with a request to have the military and traditional leaders — all known for their partisan attachment to Zanu PF — to make public pronouncements that they "will stick to their constitutional obligations" ahead of a crucial plebiscite in a few months' time.
MDC-T director of communications and Chamisa's spokesperson Luke Tamborinyoka yesterday said his boss was pushing for the meeting.
"President Chamisa has written to Mnangagwa and indicated that top of the agenda at the envisaged meeting by the two would be the issue of the military's involvement in national politics. He (Chamisa) wants the army to undeclare its previous pronouncements that they will not accept an election outcome that does not favour Zanu PF," Tamborinyoka said.
Early last week, EU ambassador to Zimbabwe Phillipe van Damme said the Western bloc would want the military to stay clear of politics.
". . . that those who have, in the past, been accused of not being neutral, where they were supposed to be neutral, that they stand up and make a formal public plea to all the others that they will respect their constitutional obligations," Van Damme told a local radio.
Foreign Affairs minister Sibusiso Moyo has told NewsDay that the army has already indicated it will stay out of politics, but this was only said to the Sadc pre-election observer mission, adding they would only make public statements if requested to do so.
"The military has already made that statement to the Sadc (pre-election) observer mission that was in the country recently, that it is not its responsibility to interfere with elections, but expect everyone to respect the people's will," he said.
"Unless someone asks them to do so, there is really no need for them to make such statements."
Spokesperson of the Thokozani Khupe-led MDC-T faction, Obert Gutu, said they would also write to Moyo regarding the military's utterances.
"Minister Moyo will hear from us once we have our systems in order. We have not formally made any request on those issues," he said.
Mnangagwa has indicated he wants a meeting with all opposition parties, but Tamborinyoka said Chamisa would not accept an indaba where the Zanu PF leader "plays lord".
"The meeting we are asking for is one at which people are equals, not in which Mnangagwa plays Big Brother or lord to other political leaders. He is a presidential candidate like everyone else," he said.
Zimbabwe's military is known for its partisan alignment to Zanu PF and on the eve of the 2002 elections, then Defence Forces Commander Vitalis Zvinavashe, flanked by other securocrats, declared they would not "salute anyone without liberation war credentials."
Since then, other top security officials have made pronouncements insinuating the army may reject electoral outcomes that favour the opposition.