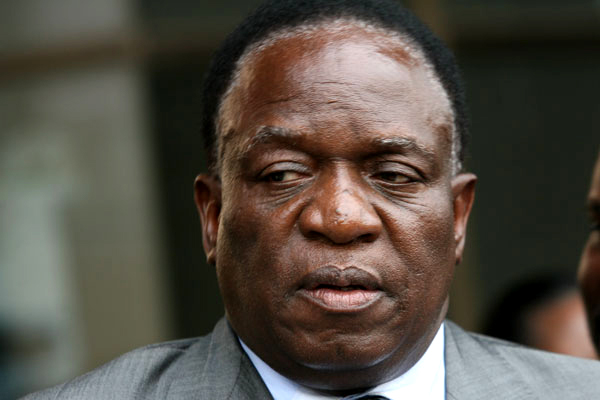 ZANU PF leader President Emmerson Mnangagwa is slowly girding himself for his first election, but his opponents claim his apparent confidence could be a sign he has something sinister up his sleeve.
BY RICHARD CHIDZA
Mnangagwa's main rival and MDC Alliance presidential candidate Nelson Chamisa has already plunged onto the campaign trail with well-attended rallies across the country, but Zanu PF has uncharacteristically taken an indifferent attitude to the general elections altogether, leaving their opponents unsure of what to expect.
MDC Alliance spokesperson Welshman Ncube said Zanu PF has been transformed into a military organisation since the army facilitated Mnangagwa's rise to power last November, hence, the ruling party's indifference to the upcoming polls.
"It is wrong to think or assume that Zanu PF has not been campaigning. They are on the ground, but not in the traditional way we all know political parties operating," he said.
"Zanu PF is now a military organisation. There are no true civilians in control of Zanu PF as we speak. You will not see the ordinary campaign you will see from a normal political party because the military is laying the groundwork for a final assault on the people as we head into the election."
The former Industry minister claimed government, in cohorts with Zanu PF, was "a lot of military hardware in preparation for what they think will be a confrontation."
But Zanu PF youth league deputy secretary Lewis Matutu challenged the opposition alliance to prove the claims of military deployment.
"Instead of throwing mud everywhere, they should prove their claims. If this really true, we will help them fight such practices [deployment of soldiers] because we do not agree with that as the youth league," Matutu said.
Former Higher Education minister Jonathan Moyo, now linked to a new political outfit, the National Patriotic Front, claimed Mnangagwa and his deputy, Retired General Constantino Chiwenga had a "rigging plan".
"Why Mnangagwa and Chiwenga are not on the ground campaigning with polls four months away: they have a rigging plan, the army will do another coup (or) they have given up.
MID [Military Intelligence Department], CIO [Central Intelligence Organisation] and (Retired Lieutenant General Englebert) Rugeje (Zanu PF national commissar)'s commissariat give ED (Mnangagwa) 15% of the presidential vote and Zanu PF junta 60 out of the 210 constituencies," Moyo said on his Twitter account.
Chiwenga last week urged his party supporters to ignore Moyo, characterising the former minister as "bitter and mad".
While government has denied claims from the opposition that it has deployed the army in the country's rural areas, Ncube maintained military personnel were visiting traditional leaders at night and threatening them with a repeat of what happened in 2008.
Following a first round loss to then MDC-T leader Morgan Tsvangirai in the 2008 March presidential election, former President Robert Mugabe unleashed the army on the population in what turned out to be one of the most gruesome electoral periods this country has ever seen.
The bloodbath forced Tsvangirai to pull out of the run-off election, triggering international condemnation and Sadc's intervention, which gave birth to a unity government. Ncube added: "They have bought millions of T-shirts and other campaign paraphernalia which our people will be forced to wear. We are, however, aware and working to counter that."
But Coalition of Democrats presidential candidate Elton Mangoma said he was not worried about whatever strategy Zanu PF would employ with the exception of violence. "We are concerned that a few of our people have been beaten by Zanu PF thugs in Makoni [Manicaland] and Epworth. As long as they do not resort to violence, then we are the least worried about their tactics. We do not care," he said.