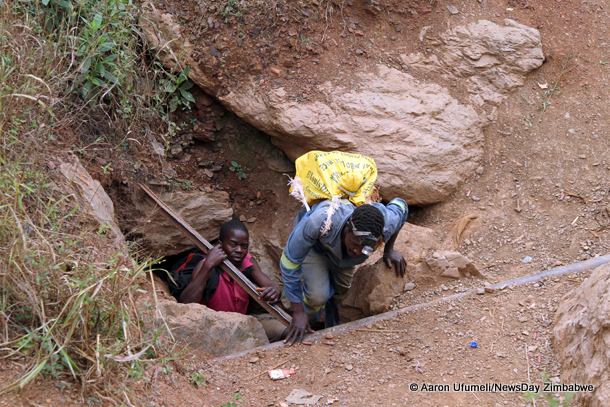 ILLEGAL gold panners are largely contributing to the siltation and contamination of Ngondoma Dam in Zhombe's Empress area, a situation that is affecting domestic water usage, as well as crops under irrigation, Sanyati catchment council chairperson, Kizito Dzvova has said.
By Stephen Chadenga
Speaking at a water management awareness campaign at Zhombe Rio Tinto Agriculture College last Thursday, Dzvova urged the community members to safeguard the dam.
"Here, at Ngondoma Dam, use of mercury and cyanide affects our livestock, our children at school and crops at Ngondoma irrigation scheme," he said.
"Gold panning, which results in siltation, reduces the water available for drinking, irrigation and fisheries. The onus is on us to ensure that we protect our rivers against siltation and pollution, as it affects us all."
Besides washing their ore in the dam, the artisanal miners also dig for gold in some parts of the dam.
It emerged during the meeting that last week, a gold panner drowned in the dam, while running away from the police.
Dzova also challenged rural district councils in the area to desist from road rehabilitation practices that see soil from the roads being eroded into the dam.
He urged women to participate in the 10 sub-catchment councils in Sanyati, as they were the ones most affected by depleting water resources.
"The government, through the Environment, Water and Climate ministry would like to see more active participation of women in sub-catchment councils in line with the provisions of our Constitution," he said.
"Women play a very important role in providing water for the family, their household chores like cooking and washing. This requires them to be actively involved as they are [directly] affected."
Speaking at the same function, Zimbabwe National Water Authority, Sanyati Catchment manager, Felix Mubvaruri said the dam had a capacity of eight million cubic metres, but half a million had been lost to siltation.
Chief Samuel Samambwa expressed dismay at the low turnout by men at the meeting, whom he accused of engaging in illegal mining activities.
He also appealed to the younger generation to desist from activities that threaten water and other natural resources.