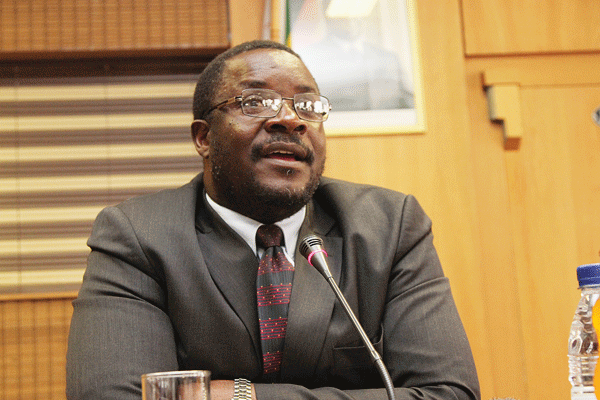 OPPOSITION political parties and civic groups have hit out at presidential spokesperson George Charamba for "absolving" President Emmerson Mnangagwa's of any blame in the Gukurahundi massacres.
By NQOBANI NDLOVU / SILAS NKALA
They argued the timing of Charamba's claims was suspicious as it came when the National Peace and Reconciliation Commission (NPRC) has just begun consultative meetings on Gukurahundi and other past human rights violations.
Charamba, in an opinion piece published in a local weekly, said Mnangagwa was then "just a ministerial minion" with no capacity to commandeer the army to conduct the atrocities, but opposition parties and civic groups said the President can only be absolved by a truth commission.
"What surprises is the fact that Charamba is jumping to absolve Mnangagwa just when the latter has operationalised the NPRC, which is charged with resolving atrocities that include Gukurahundi. We now are asking ourselves what it is that Charamba knows concerning the NPRC that we don't," Zapu spokesperson, Iphithule Maphosa said.
"He knows NPRC cannot absolve Mnangagwa, whose involvement in Gukurahundi is so blatant and recorded. We have come to the conclusion that Charamba knows the process of the NPRC is just window dressing, hence, jumping the gun and absolving the hand holding the spoon from which he's feeding. He knows it is a useless body put in place to pacify the nation and the world."
Mnangagwa has repeatedly distanced himself from the Gukurahundi massacres, which claimed over 20 000 civilian lives in Matabeleland and Midlands provinces in the 1980s. "The role Mnangagwa played is well-documented, and we don't expect his spokesperson to try to trivialise the genocide. Trying to exonerate him before the NPRC concludes its investigations is sad. Let the Chihambakwe Commission of Inquiry report on Gukurahundi be publicised, and be exonerated if he is clean," Ibhetshu LikaZulu co-ordinator, Mbuso Fuzwayo said.
Former President Robert Mugabe, who ordered the inquiry, kept a tight lid on the report of the findings until he stepped down in November last year.
Economic Reform Assembly leader, Amos Dangwa said Charamba should not play blame games on Gukurahundi.
"It does not help anybody for people like Charamba to continue playing blame games, while people in Matabeleland continue to be marginalised. There is no need to defend anyone on this issue. People should simply own up their involvement in Gukurahundi and let the nation move forward."
MDC Alliance Bulawayo spokesperson, Felix Magalela Sibanda said Charamba was being mischievous by trying to exonerate and defend Mnangagwa over a sensitive issue.
"As MDC Alliance Bulawayo, we are extremely shocked and apprehensive by the unrepentant league of Zanu PF diehards. It is an insult to people of Matabeleland in particular and Zimbabweans in general," he said.
"As MDC family, we hold Charamba and his principal responsible for causing alarm and despondency among Zimbabweans. We and rational civic society organisations call the government of ED (Mnangagwa) to be more responsive than that of former President Robert Mugabe."
Sibanda said the Mnangagwa administration was unrepentant.
"Who does not know what role ED played in the wanton destruction of life and property of civilians in those days of the 'moment of Mugabe and his Cabinet madness?' We demand retraction of Charamba's statement to avoid massive and unprecedented action against ED's government," Sibanda, who is also MDC-T Bulawayo spokesperson, said. "It is, therefore, useless to hold national healing consultative meetings if the perpetrators are unrepentant."