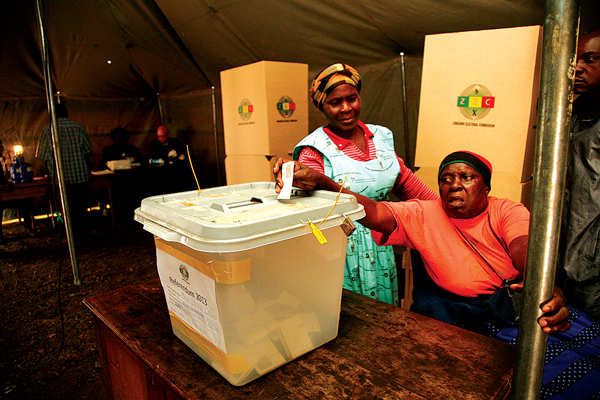 CANADIAN ambassador to Zimbabwe, Rene Cremonese yesterday said they were engaging the government on the need for deployment of foreign election observers, months before the polls to ascertain their credibility.
By NQOBANI NDLOVU
Cremonese said poll monitoring must not only involve accrediting observers to be deployed days before the elections to monitor balloting and vote counting, but to monitor the whole election process.
"It doesn't mean that simply we will be able to come two days before elections, we put observers in all the polling stations and we see how the voting and counting is done. The principles of free, fair and transparent elections begin well in advance of the actual election day and the campaign itself," he told journalists during a briefing yesterday.
"So, observers, ideally, should be here much earlier. We can continue to have dialogues with the government on how we can try to determine how and when those observers can be deployed. I don't have specific plans at the moment for Canadian election observation team, but certainly, it's something we can look at."
President Emmerson Mnangagwa has said elections will be held in a few months time, and reiterated that regional, African and international election observer missions will be invited to monitor the polls.
Former President Robert Mugabe in the past barred some international election observer missions on charges of their countries imposing sanctions against him, his wife Grace, family and close associates over human rights abuses.
Mnangagwa has also promised free, fair and credible elections.
"For Canada, it's positive that the President and members of the government have indicated that their intention is to have free, fair and transparent elections. I think it's important for everyone, Zimbabweans and the international community to continue to emphasise to the government that it needs to take steps to ensure that those elections are free, fair and transparent," Cremonese said.
"I think that there are specific principles that exist that Zimbabwe has accepted in its own Constitution and Sadc principles that are important ways that a government can measure what it needs to do in order to ensure that there are free, fair and transparency elections."
Previous elections have been marred by violence, allegedly perpetrated by Zanu PF activists.
Recently, ruling party activists and traditional leaders have been accused of intimidating and coercing mostly rural voters into submitting their biometric voter registration slip serial numbers.