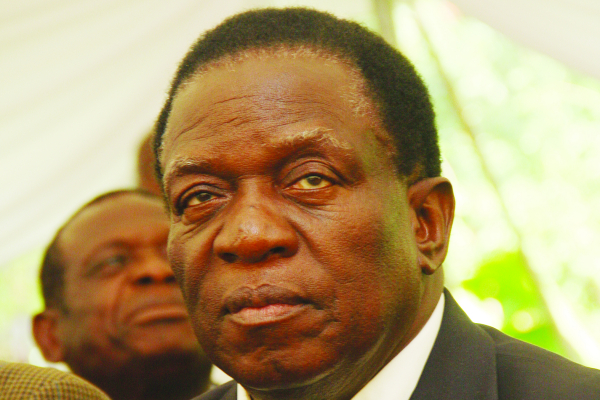 THE United States has slapped fresh targeted sanctions on President Emmerson Mnangagwa's administration and maintained a leash on former Zanu PF leader Robert Mugabe and his wife Grace, NewsDay can exclusively reveal.
BY RICHARD CHIDZA
Highly-placed government sources told NewsDay yesterday that two weeks ago, Foreign Affairs and International Trade minister Sibusiso Moyo received a diplomatic note to the effect that the US, while recognising the authorities in Harare, would extend sanctions with the possibility of a review after the general elections expected in July.
"The minister was told through a diplomatic note that the US will be renewing sanctions against the new government. There are additions to include those (ministers and other top government officials) that came into the Executive through the November 15 operation," a source said.
NewsDay heard that in its diplomatic note to Moyo, the US government clearly indicated that Mnangagwa's administration was a "product of a military coup".
"The US is very clear that Mnangagwa came to power through a coup although the authorities in Harare have done everything in their power to avoid this word (coup). It was also indicated that the general elections expected in July will be the benchmark on which the sanctions will be reviewed," another source said. "A public announcement on the issue is due any time from now, likely before the end of the month."
Contacted for comment, Moyo said: "Well, I have had communication with the US administration and actually we are expecting a delegation next week. We are cognisant of the fact that it is not easy to change sanctions laws because there is need for consultations and the US Congress has to repeal such statutes.
"We also did not expect this [shift in US policy on Zimbabwe after Mugabe's fall] to be an event, but we will continue working with them."
The US embassy in Harare would neither deny nor confirm extension of the sanctions regime.
"The President (Donald Trump) may sign a notice of continuation of the national emergency with respect to Zimbabwe. The continuation of this national emergency had been done yearly since 2003 and maintains sanctions implemented under Executive Orders 13288, 13391 and 13469 pursuant to the International Emergency Economic Powers Act," the embassy said in response.
The embassy insisted that these were not full-blown economic sanctions, but targeted sanctions under Executive Order 13288 "against individuals and entities undermining the democratic processes or institutions in Zimbabwe or who participated in human rights abuses as well as facilitation of corruption".
"The sanctions do not prohibit trade with non-sanctioned individuals or entities. Unless a transaction involves a blocked individual or entity, US persons may conduct business in and trade with businesses in Zimbabwe and its people," the embassy said.
The US added that Mnangagwa's rise to power offered the country "an extraordinary opportunity for Zimbabwe to set itself on a new path to implement reforms that could allow the United States to re-engage in ways not previously possible".
Mnangagwa came to power on the back of a military intervention in November that forced Mugabe to resign. Before he stepped down on November 21, Mugabe had spent a week under house arrest at a time Parliament was also in the process of moving for his impeachment.
The President, who had been fired by Mugabe on November 6 and forced into exile in South Africa for just over two weeks, returned to take power three days after the former Zanu PF strongman resigned.
Most Western countries including the European Union (EU) and Britain seem to have accepted Mnangagwa's administration. EU ambassador to Zimbabwe Phillipe Van Damme last month was non-committal arguing the European bloc's council would make its policy position on Zimbabwe soon with indications it was ready to engage Mnangagwa's regime. Only Mugabe and Grace remain on the EU sanctions list.
British Foreign secretary, Boris Johnson, in December seemed to give Mnangagwa his seal of approval.
"I am encouraged by President Emmerson Mnangagwa's words so far," Johnson said.
The US Congress passed the Zimbabwe Democracy and Economic Recovery Act in 2003 after Mugabe's government sponsored an orgy of violence against opposition supporters as well as the seizure of white-owned farms across the country fronted by veterans of the liberation struggle.