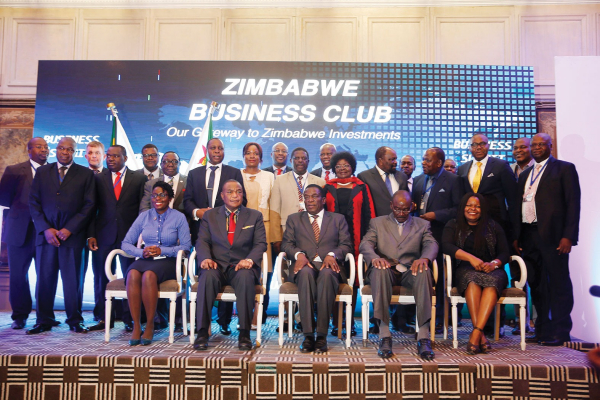 President Emmerson Mnangagwa yesterday pleaded for patience, saying his government would publish to the nation its achievements after its first 100 days in office.
BY FIDELITY MHLANGA
Officiating at a summit organised by the Zimbabwe Business Club, Mnangagwa said he was receiving positive signals of co-operation from across the world for re-engagement.
"On public sector enterprises that there should be timelines, you need to realise that there is no need to rush in doing decisions. There is debate and dialogue between the public and private sector to how best we can deal with parastatals. Some we have to abolish, some we have to capitalise and some to privatise. It's a process that most of you think that in the last six weeks, I should have resolved all those issues which we didn't for 37 years. This means you have so much faith in us," he said.
"We are doing our best as a team to work towards the target. At the end of the cycle of 100 days, we are going to publish to the nation what we have achieved and what we have not achieved."
He said government was committed to protecting property rights and ratify the Bilateral Investment Promotion and Protection Agreement, adding his administration would embrace new friends, including hostile countries, as well as maintaining good relations with friendly nations.
"Fortunately, we are receiving positive signals across the world in the western countries from the United Kingdom, German, France, India, China and Brazil, among others. We are receiving positive signals for co-operation. So, on the issue of international engagement, it's a moment where we are receiving goodwill and we must ride on this goodwill as a country," he said
Mnangagwa said Zimbabwe was ready for business, promising investors that they would be able to repatriate their profits to their countries.
"With regards to the repatriation of your profits, your earning, you are guaranteed that you will be able to take out your money subject, of cause, to approvals by the minister of Finance (Patrick Chinamasa) and Reserve Bank governor (John Mangudya). But at the end of the day, you will take out your money, with respect to the fact that anybody goes in business to make money," he said.
Mnangagwa said Justice, Legal and Parliamentary Affairs minister Ziyambi Ziyambi was making efforts of aligning policies with the legal framework.
Turning to foreign currency shortages and price distortions, Mnangagwa called for collective solutions to the problems "All these are challenges. I think from the time of Julius Caesar, some of these shortages were there and I have no doubt they will continue after us. But what is important is that we recognise that these problems are there and collectively, we must find solutions to these challenges together. We must have an approach, where we say these challenges are ours and how does my sector contribute to solutions to these challenges," he said.
NatFoods chief executive officer Mike Lashbrook said there was need for new lines of credit in the economy to ensure price stability and cash availability.
Infrastructure Development Bank of Zimbabwe chief executive officer Thomas Sakala said the country should allocate at least 7% of gross domestic product to infrastructure development like in Lesotho and Botswana.