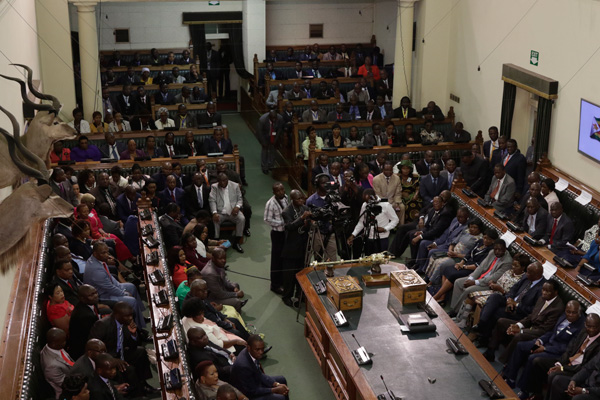 ZANU PF yesterday fired 11 more MPs allegedly aligned to the vanquished G40 faction, including former Foreign Affairs minister Walter Mzembi (Masvingo South), former Energy minister Samuel Undenge (Chimanimani East) and former Masvingo Minister of State Paul Chimedza (Gutu South).
BY VENERANDA LANGA
Former Sports minister Makhosini Hlongwane (Mberengwa East), former Tourism deputy minister Anastancia Ndhlovu (Proportional Representation), former Public Service deputy minister Tapiwanashe Matangaidze (Shurugwi South), Hurungwe East MP Sarah Mahoka, Harare South MP Shadreck Mashayamombe, Rushinga MP Wonder Mashange, Masvingo Urban MP Daniel Shumba and Bikita South MP Jeppy Jaboon were also shown the exit door.
This was announced in the National Assembly by Deputy Speaker Mabel Chinomona after Parliament received a letter from Zanu PF, requesting that they be fired in terms of section 129 (1)(k) of the Constitution.
The former MPs were fired from the ruling party by a special Zanu PF central committee meeting held in November when the military launched Operation Restore Legacy which forced ex-President Robert Mugabe to resign.
"I wish to inform the House that Zanu PF has notified me that these MPs have ceased to be members of Zanu PF party and, therefore, no longer represent the interests of the party in Parliament with effect from January 10, 2018," Chinomona said. "I, hereby, inform the House that vacancies have arisen in those constituencies and necessary administrative measures will be taken to inform President Emerson Mnangagwa and the Zimbabwe Electoral Commission of the existence of the vacancies in line with section 129 (1) (k)."
Kuwadzana East MP Nelson Chamisa (MDC-T) then raised a point of order with Chinomona, appealing to political parties not to be vindictive to other factions.
"We are in a new dispensation and it requires that we continue on national healing processes, not only in Zanu PF, but in opposition parties. Let us quieten the water because turbulence is not good for the country. We cannot re-engage the world if we cannot re-engage in our own country and political parties and start pursuing individuals from another generation (referring to G40)," he said.
But Chinomona told Chamisa that the matter was purely a Zanu PF one.
"You are an advocate and if you want to advocate for these fired MPs, then do it outside of this House," she said. In an unrelated matter, Finance minister Patrick Chinamasa refuted claims by former President Robert Mugabe that $15 billion diamond revenue was missing.
"It is clear there is no way that $15 billion diamond revenue could come from Zimbabwe when the entire diamond industry is worth $50 billion," Chinamasa said during debate on the Finance Bill to do with the 2018 National Budget.
On the Parliament budget, Chinamasa said he has cancelled MPs' car loan scheme and would convert it to a free car scheme.