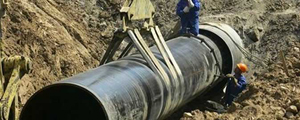 RESIDENTS of Dangamvura high-density suburb in Mutare, who have endured decades of dry taps, have welcomed the resumption of the suburb's water pipeline project, after the development partner accessed the required foreign currency needed to start the project.
BY CLAYTON MASEKESA
The Ministry of Local Government has since approved the project, which was abandoned following a botched water pipes deal in 2012. Work on the project is set to resume this week.
The local authority reportedly lost $330 000 to Shitazburg Enterprises (Private) Limited, after the firm failed to supply and fix water pipes that could have helped alleviate water woes in the suburb.
Although a Mutare court ruled in 2012 that Anderson Mwashita, who owns the company, restitutes the local authority, nothing has been recovered, resulting in the water pipeline project remaining at a standstill due to lack of funding.
In an interview with NewsDay yesterday, residents applauded the development.
"We have endured long periods without water and we hope that this time nothing will derail the project. We now call on the project to be sped up because, as residents, we are so desperate for water," Shadreck Mutsenhu, a senior resident, said.
Another resident, Miriam Chinaka, said: "We have been waiting for this project for a very long time. We have been exposed to various diseases as a result of water shortages, and we want to thank the city council for this and we are willing to see water coming to our homes."
Many residents draw water from unprotected sources like streams and Sakubva River.
"We used to carry buckets and containers in our trucks which was tiresome, while house maids carried water buckets on their heads. This will be a great relief."