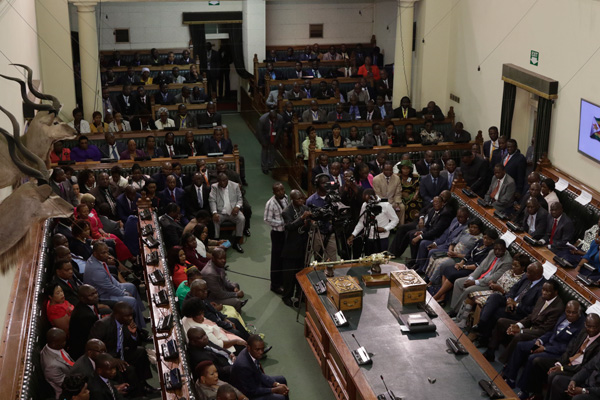 As I took a break from my busy schedule on the afternoon of January 24, 2018, I decided to relax in my lounge at home and switched on Zimbabwe television. I found that there were parliamentary proceedings going on.
By Reinford Khumalo
Members of Parliament were, through the Speaker of Parliament Jacob Mudenda, raising questions to the responsible ministers on anomalies in their respective ministries. As I listened to the proceedings, I learned with shock from a lady member of the legislator, whose name I do not know, that there are 24 primary schools in Matabeleland North province that obtained a zero pass rate in their Grade Seven results, that is, all pupils failed in 24 schools.
I admired the legislator for raising such an issue, as it bespeaks of her concern to pinpoint a need for the awakening of the august House to a grave issue of developing the nation through the education of our children — the future of our nation. However, to my disappointment, the way the question was put left much to be desired. The gist of the question went something like this: "Mr Speaker, I learn with concern that there are 24 primary schools in Matabeleland North province that got a zero pass rate. Could I please ask the honourable minister concerned to explain what the government policy is on such a scenario?" The way the question was asked made me cringe with the feeling similar to that of a spectator watching a game where an archer misses a bull's eye with his arrow. Here is a questioner, who, instead of demanding an answer from the minister responsible, subjects herself to the mercy of the minister. MPs are elected into that august assembly to represent us. The questions they ask in Parliament are asked on our behalf. MPs should not feel pity for themselves when they ask questions.
The question to the minister as to whether a policy provides for solving an eventuality is a lame question. Policies do not provide for solving specific problems. Policies are broad and they need interpretation. In the scenario of 24 schools having failed to get a single pass, the question to the minister should have been a demand that an inquiry be undertaken as to why such a situation arose in the 24 schools.
To ask if the policy provides a solution to a problem gives the minister a wide gate for him to mumble around the matter and provide whatever answer pleases him to get away. It has been known through general practice that very often, answers given are as good as the questions asked.
I have also, through general observation, found that this attitude of the Zimbabwean populace resigning to their fate of helplessness is prevalent in as much as it is with some of our MPs. I do not know whether this is a result of fear or incapacity for the positions held by some of our legislators or both. We need to adopt our constitutional mandate of demanding from those we elect to power to account for the trust we have bestowed upon them.
MPs ought to do this on our behalf. Being an MP should not be a means of indulging in a "gravy train", but to work for the betterment of the electorate. This attitude of self-preservation and self-gratification by our leaders to pride themselves in displaying their gains attained from taking the positions into which they are elected should change.
MPs should ask honest questions and also provide honest answers. The above was my first concern pertaining to the matter raised by the MPs. Rubbing salt into the wound, as it were, was the reaction of the other MPS in general, to the issue raised by the MP.
Many heckled and booed the lady and others, at best, kept quiet. Both groups disappointed me. Here is an MP raising a matter of national concern — the education of our children, a matter that requires far much higher priority than even repairing the Harare to Bulawayo Road as it were, if the two matters could be placed in comparison. Our children are the future of the nation.
Twenty-four schools on average represent about 7 200 pupils considering that on average, if conservatively, a school is estimated to have 300 Grade Seven learners. This large number of students, who failed represents the number of households that will suffer through a vicious cycle of unskilled people.
This is not something to heckle about or to be silent about. This is a serious matter that transcends political lines or tribal lines. It is a matter that all those concerned about the nation of Zimbabwe cannot turn a blind eye to or be indifferent about. I expected this matter at these parliamentary proceedings to be followed up by many MPs demanding to know why such a disastrous occurrence took place in a particular region of the country.
The geographical location of the incident should not be the criterion for the need to address the issue. The key criterion is that these are Zimbabwean children. To my disappointment, the matter was passed over after some brief comments by the Speaker and another MP, who proverbially deflected the matter.
Could it be that we are still at a lower level of development as a nation – that level of development, focusing on tribal lines not at an upper level, focusing on national affiliation? We should be Zimbabweans first before we are tribes. Issues raised in Parliament should be considered according to their national priority, not on who they affect. It surprised me to notice that a trivial matter in comparison to the failure of pupils in 24 schools, a matter of a speedy production of passports or national identification cards, generated a lot more interest from the MPs.
Was it because the matter of passports affects the very MP and was asked by a legislator, who is from a popular party or a particular tribe?
This apathy and negativity on important national issues towards one another on party lines and/or on tribal bases to the detriment of important national matters does not befit the Zimbabwean nation, a nation renowned for its very high literacy rate, higher than almost all countries in Africa.
Let us all take our nation seriously and prioritise matters of national development particularly the development of all our people. MPs should represent us in the true sense of their mandate.Reinford Khumalo is a professor of Business Leadership and Organisational Behaviour. He is a business consultant serving many organisations and institutions of higher learning within and abroad in the designated area of his expertise including strategic management.
He is also a keen supervisor of PhD students. He can be contacted through e-mail: reinford.khumalo@gmail.com or +263 77 9544208 or +263 71638 3944.