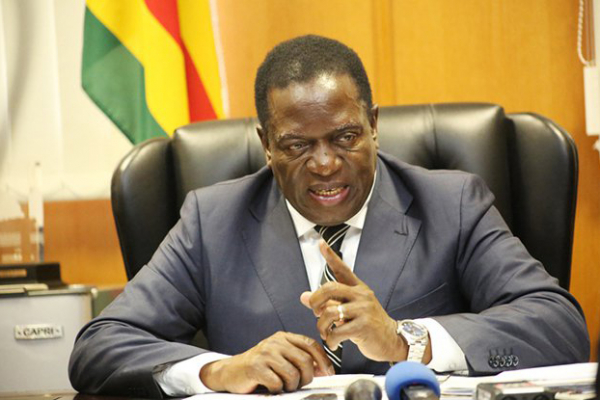 PRESIDENT Emmerson Mnangagwa will not give gays and lesbians any special treatment, but will follow the Zimbabwean Constitution, which bans same-sex marriages.
BY BLESSED MHLANGA
Speaking to CNN's Richard Quest at the just-ended World Economic Forum in Davos, Switzerland, Mnangagwa said it was not his duty to speak out for gay people, departing from former President Robert Mugabe's hardline stance, which classified gays and lesbians as "worse than pigs and dogs".
"Those people who want it are the people who should canvass for it, but it's not my duty to campaign for this," he said.
Pressed on whether he was going to change laws to allow same-sex marriage and protect the rights of gays, Mnangagwa turned to the Constitution saying his hands were tied.
"In our Constitution, it is banned — and it is my duty to obey my Constitution. With regard to areas that we felt we would not accept, it is issues of gays and homosexuality, which is unlawful in our country. We rejected all those.
"There are a few countries from Europe, which recommended we reconsider our position with regard to adults of the same sex marrying each other — that we rejected," he said.
Mnangagwa also faced grilling on his claims that his government was turning a new page and looking to leave its past mistakes and focusing on the future.
"Those who want to live in the past can continue to live in the past. But those who want to see the future can look at what we are doing, and make a judgment of what we are doing," he said.
Mnangagwa, who has been on record saying Zimbabwe is lagging behind by about 30 years, said it was time to implement policies that would ensure the country catches up.
"We have to say: Why are other economies in our region progressing? Why are other economies growing? Why do we not have direct investment coming into Zimbabwe? We must say: What did you see which constrains you from coming into our environment. When they do so, if we're able, we'll adjust the legislation and laws."
Mnangagwa has already amended the Indigenisation Act, removing restrictive investment quotas, especially percentage ownership limits.