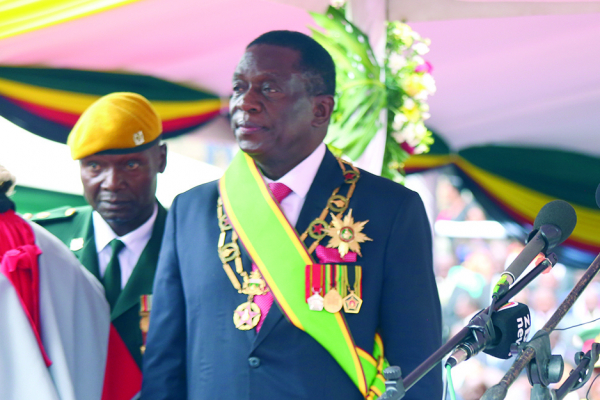 MDC Alliance co-principal and Transform Zimbabwe leader Jacob Ngarivhume has said President Emmerson Mnangagwa's (pictured) "public relations" gestures will not add value to this year's general elections as people are fully aware of his record in government since independence in 1980.
BY OBEY MANAYITI
Ngarivhume expressed optimism that the MDC Alliance would emerge victorious in the elections and form the next government. Since taking over in November from deposed President Robert Mugabe, Mnangagwa has shown signs to reform the culture of governance in the country and to resurrect the economy.
This came at a time when the majority was accusing the opposition of not doing enough to match Mnangagwa's zeal to reform the economy and to win elections.
In an interview following his whirlwind tour of Masvingo and Mashonaland East provinces over the weekend, Ngarivhume expressed confidence that the opposition alliance would win the elections ahead of Zanu PF under Mnangagwa.
"The President is doing a lot of public relations gestures, including the arrests of G40-aligned Zanu PF members on charges of corruption, but all this is like applying lipstick on a frog," he said.
"The truth is that Mnangagwa is part of the problems that we have in this country and he will not fool anyone. He has a terrible and horrible human rights record and he is responsible for building a system that has destroyed Zimbabwe.
"He must first explain his sources of wealth before going after his erstwhile officials. During good days Mnangagwa was Mugabe's right-hand man responsible for the majority of the things that Mugabe's administration was doing."
Ngarivhume challenged Mnangagwa to come clean on his role on the missing $15 billion diamond revenue and the Gukurahundi issue. He also challenged Mnangagwa to be clear on the much-needed electoral reforms.
Ngarivhume described the tour of provinces and donations to children's homes by Mnangagwa's wife, Auxillia, as grandstanding.
"The electoral reforms have not yet come and he is adamant on that. We are also not fooled by the things that his wife is doing.
"We are also tracing her record since she was elected MP in 2015 and that alone would tell a story. She never did anything, but now she is trying to grandstand by making donations to children's homes and buying fruit by the roadside.
"She wants to settle scores with the former First Lady Grace Mugabe and the fortunate thing is that everyone is seeing it all. The electorate knows the real issues affecting the people and this can only be solved by changing the government next year," Ngarivhume said.
The country is expected to go for elections mid-year and all the parties are beginning to start reaching out to the electorate.