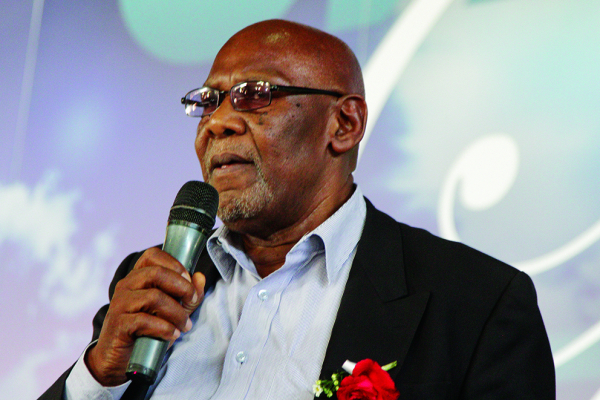 ZAPU leader, Dumiso Dabengwa on Friday sensationally claimed that Gukurahundi was planned in 1979 during the Lancaster House talks, adding he still has more to reveal about the 1980s mass killings that left over 20 000 civilians in the Matabeleland and Midlands provinces dead.
BY NQOBANI NDLOVU/EVERSON MUSHAVA
Dabengwa was making a presentation at a policy dialogue forum organised by Southern African Political Economy Series (Sapes) Trust, in conjunction with the Women in Leadership Development (WILD), that was attended by tens of Bulawayo residents.
The discussion where other panelists, who included renowned human rights activist Elinor Sisulu, academic Martin Rupiya and Open Society for Southern Africa director Sipho Malunga, spoke about the need to address the issue of the killings in Matabeleland and Midlands provinces by the North Korea-trained Fifth Brigade soon after independence, was held under the theme: Gukurahundi: Towards a National Dialogue.
The same panel had tackled the topic in Harare where suspected Zanu PF youths tried to disrupt the event.
Dabengwa told the gathering that former President Robert Mugabe, current President Emmerson Mnangagwa and some army generals were in 1979 told Zapu and Zipra were "enemies of the State".
"During the Lancaster House talks, when it became clear to our colleagues in Zanu PF that the British had preferred them to be the victors in the 1980 elections it is then that they planned to make sure that Zapu and Zipra were dealt with. Zapu and Zipra were the enemies.
"This was said in front of Mugabe, in front of Mnangagwa, in front of [the late Solomon] Mujuru, [the late Zipra commander Lookout] Masuku, Ken Flower and Peter Walls by one of the majors in the intelligence service of Zimbabwe. This is why I am saying Gukurahundi was planned as way back as 1979," he said.
Dabengwa said one of the majors serving in the intelligence service of Zimbabwe (then Rhodesia), who gave a security briefing of what threats the country could possibly face after independence said Mozambique, Malawi, Botswana, Namibia were not threats.
"Then he (major) said, we only have one enemy and that threat is Zapu, that threat is Zipra. I am saying for the first time. Some people will not know, ask Mugabe, Mnangagwa … I was the only one who tried to intervene and find out what this army major was trying to say. I was sitting next to Mugabe during the security briefing and asked him (major) 'are you telling the Prime Minister that I am the enemy' and he said to Mugabe that the enemy next to you is Zapu and Zipra. This is why I am saying Gukurahundi was planned as way back as 1979," he said.
Dabengwa, who was detained, even after being acquitted by the courts during the Gukurahundi era, said Mnangagwa now had an opportunity to lead the country to national healing by resolving outstanding issues over Gukurahundi.
Mnangagwa, last week signed into law the National Peace and Reconciliation Bill (NPRC) to operationalise the National Peace and Reconciliation Commission, setting a framework on how the commission will conduct its duties in addressing past human rights violations such as Gukurahundi and Operation Murambatsvina, among others.
When contacted for comment by Southern Eye on Saturday, Dabengwa refused to reveal the name of the said major: "I deliberately did not mention his name, but will mention it at the right time."
"The only way to move past this terrible episode is to address it head on," he added. "If the authorities seriously want to address this issue, there are many like me, who despite being victims, are ready to peacefully resolve this issue and heal our country."
Sapes Trust director, Ibbo Mandaza said Mnangagwa's bid to win this year's elections could go up in smoke if he fails to deal with the thorny Gukurahundi issue.
"Mnangagwa is in trouble electorally," he said. "He underestimates the toxicity of the Gukurahundi issue and its electoral implications. If he fails to enchant and Mashonaland West and Central, he is headed for a train smash defeat in 2018."
Mnangagwa's predecessor Mugabe had suppressed debate over the atrocities and the meetings in Harare and Bulawayo, were the first to be held without disruption by the State.
Mandaza said he had never imagined that the topic could unify the people of Matabeleland in such a manner.
Malunga, whose father Sidney, a PF Zapu stalwart, was a victim of Gukurahundi called for tolerance, saying attempts to silence debate on the subject were doomed.
"On Gukurahundi no efforts, will succeed to deligitimise victims including myself," he said. "I don't need anyone to validate me or my victimhood. I have said many times that I am a victim and there are thousands others more, who are not able to speak for themselves because they were killed and more because they are afraid."