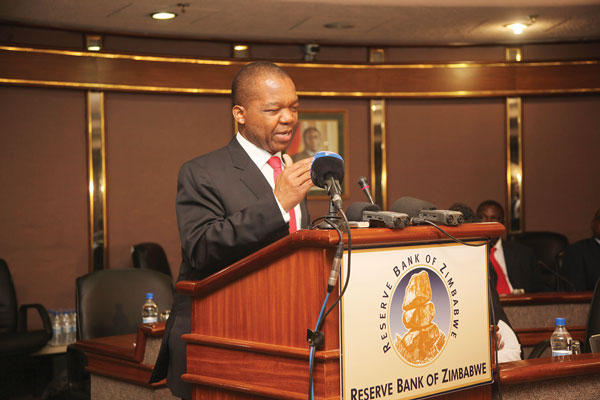 RESERVE Bank of Zimbabwe (RBZ) governor, John Mangudya has said local companies must up their game and brace for stiff competition, as foreign investors reportedly eye setting up shop in Zimbabwe.
BY FIDELITY MHLANGA
Speaking at the Confederation of Zimbabwe Industries (CZI) economic outlook symposium in Harare yesterday, Mangudya said local companies have to improve their efficiencies and competitiveness.
"We are opening up business for both domestic and foreign investors. Therefore, the challenge for domestic investors is that you need to improve on your efficiencies and competitiveness. Because someone will come and set up a plant to produce a better plastic using their own money. It means that our businesses are threatened," he said.
"So ask yourself, how do I compete in a liberalised economy? Are you businesses ready to compete? Let's say, if you are producing 3 000 garments per day using old equipment, maybe you are going to compete with a Chinese, Indian or Ethiopian investor which produces 10 000 garments per day? So you need to improve your businesses to make sure they compete."
Mangudya said he met a number of investors keen to invest in the country during his recent trip to Switzerland.
"In Zurich, we met the business community there. They are so keen to come to Zimbabwe. Yes, we know that these are infancy stages, but we need to continue to manage this process. I have seen quite a number of banks coming to Zimbabwe. A number of investors are coming to Zimbabwe. We need to be prepared for competition and I know it's going to reduce the appetite for people to internationalise money," he said.
The RBZ boss said he has witnessed an increase in bank deposits, following an announcement of an amnesty to corporates and individuals that externalised funds and assets.
Mangudya said he also had time to engage with correspondent banks after the country has lost at least 50 of them since 2008. A correspondent bank is a financial institution that provides services on behalf of another by facilitating wire transfers, conduct business transactions, accept deposits and gather documents.
The central bank boss said most countries had fiscal deficits, but what was problematic in Zimbabwe was that the country is financing its deficit through Treasury Bills and overdrafts because of lack of foreign financing.
Agribank business development director, Joseph Mverecha called for the complete overhaul of Indigenous Economic Empowerment Act, so as to start on a clean slate.
In his 2018 National Budget presentation, Finance minister Patrick Chinamasa said the 51:49 threshold would only apply to platinum and diamonds.
Mverecha said there was need to stop cash premiums flourishing on the parallel market so as to stem inflation.
Italian ambassador to Zimbabwe, Enrico De Agostini, who is expected to lead a business delegation to Italy at the end of February, said the country must ratify outstanding Bilateral Investment Promotion and Protection Agreements, so as to send positive signals to countries that intend to invest in Zimbabwe.