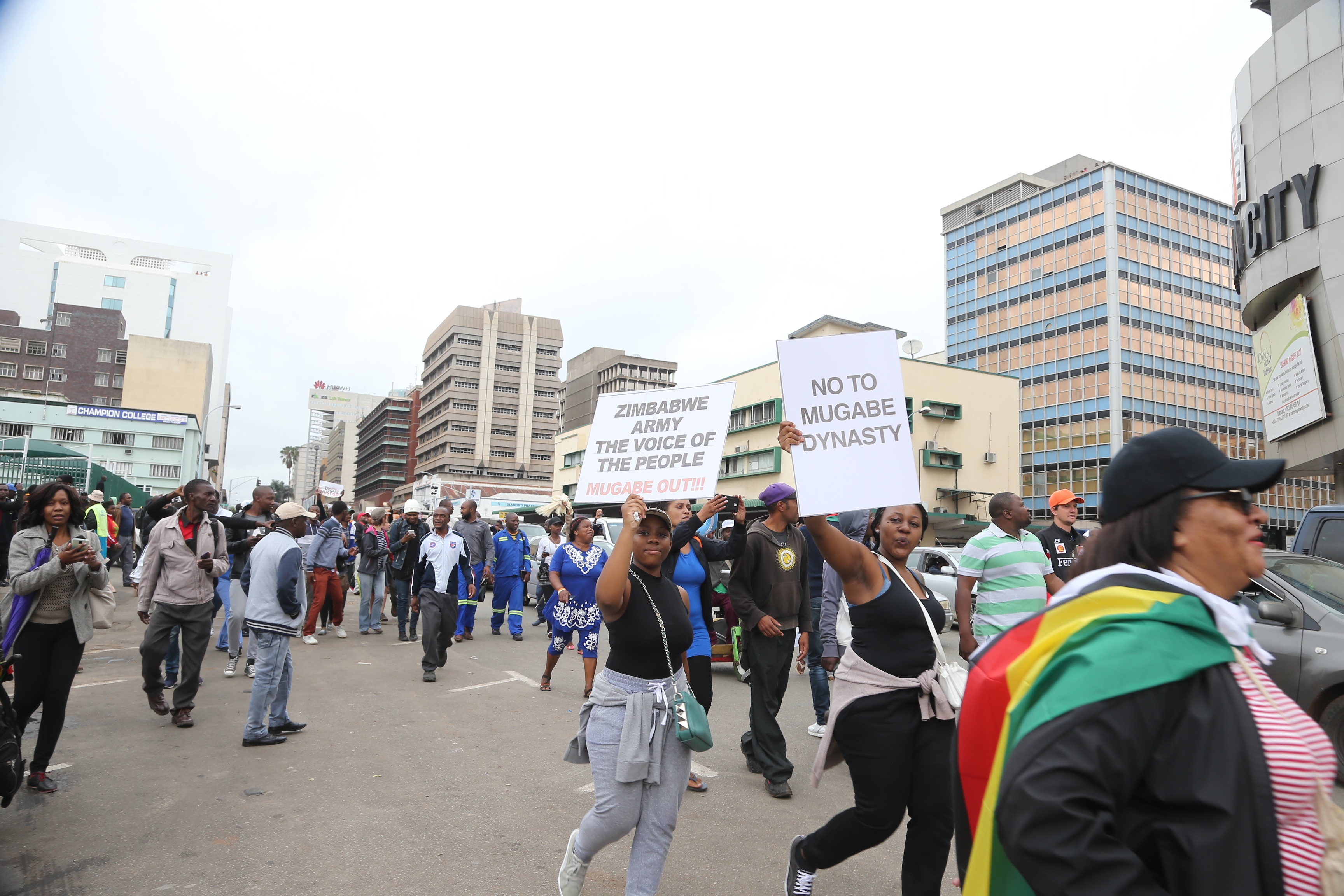 ZIMBABWEANS across the country are waiting with bated breath for the outcome of the Zimbabwe Defence Forces (ZDF)'s move to weed out criminals within Zanu PF and their negotiations with President Robert Mugabe.
Online Desk
The crowd giving army food and alcohol.
Mwonzora says: "Zimbabwe is not for one person, army has upheld constitution, Zim is for all races. Your hold on power Mugabe has come to an end he quotes what Jesus said on the cross in his last moments.
Chinamasa – says he is representing Zanu PF and is immediately booed, Mahiya had to intervene to bring order so that he is allowed to speak.
Chanting crowds demand the return of USD ask Chinamasa were it went.
The minister Has torrid time addressing the restive crowd
He says War Veterans fought to remove Mugabe and should be respected.
He says Mugabe must go he has to resign. people around Mugabe should be arrested, their crimes should be investigated Mugabe should go now
Joice Mujuru is introduced just says I am here to support War vets, says people have suffered enough. Let's all push so that he goes Pastor Mawarire comes on stage says Let's build Zimbabwe together.
Building a new opportunity for the people. Not a party issue, this is a Zimbabwe thing shouts Mawarire.
Patson Dzamara gatecrashed and demands the wereabouts of his brother
Oppah Muchinguri: Denounces 1st Lady and says we have capacity to solve our own problems. Tells off Sadc and says we have to march to State House to remove the tyrant.
Roads congested but everything flowing perfectly well in the absence of police.
Watch live stream video of what is currently going at parliament
https://newsday.wpengine.com/wp-content/uploads/2017/11/WhatsApp-Video-2017-11-18-at-12.12.24.mp4
"We are giving an ultimatum to Mugabe. This aura, this pretence that things are normal going to Zimbabwe Open University capping people, it's pretence,"– Chris Mutsvangwa
War veterans have called on cornered President Robert Mugabe to step down today or face the wrath of Zimbabweans in a planned final push rally to oust the only leader Zimbabwe has known since independence in 1980.