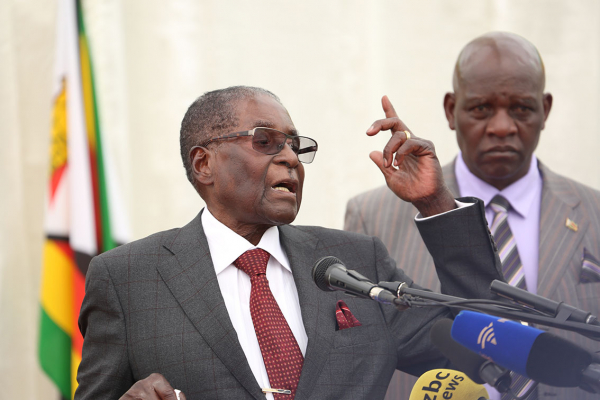 PRESIDENT Robert Mugabe yesterday announced a shock Cabinet reshuffle where he dropped three ministers and reassigned 10 others as he clipped under-fire Vice-President Emmerson Mnangagwa's wings by taking away the Justice ministry from his ambit and giving it to Central Intelligence Organisation director-general Happyton Bonyongwe.
BY STAFF REPORTER
Those axed from Cabinet include Priscah Mupfumira (Public Service), Tshinga Dube (War Veterans) and Abednico Ncube (Rural Development).
Mugabe on Saturday warned of the reshuffle, saying it was targeted at underperformers, although there was strong belief within Zanu PF circles that he wanted to get rid of Mnangagwa's allies.
Mupfumira and Dube were widely believed to be sympathetic to Mnangagwa for allegedly capturing key State institutions and plotting to topple Mugabe.
"But we must also look at ourselves and say to ourselves, 'Well, have we, all of us, co-operated together or are there some amongst us who, although they were given positions, and although they are good members of the party, but have not done well?" Mugabe said.
Mupfumira was replaced by Mugabe's nephew Patrick Zhuwao (formerly Youth minister) with Dube giving way to Cain Mathema (formerly Matabeleland North Provincial Affairs minister), while Ncube had his ministry disbanded altogether with the Rural Development element taken back to Saviour Kasukuwere's Local Government ministry, while the Arts and Culture component was given to Makhosini Hlongwane's Sports ministry.
Kasukuwere was, however, stripped of his influence on urban areas which was given to various Provincial Affairs ministers most of whom retained their posts with former Health Deputy minister Paul Chimedza replacing the late Shuvai Mahofa as Masvingo Provincial Affairs minister.
Maboyi Ncube is the new Provincial Affairs minister for Matabeleland South province.
Other major casualties were Finance minister Patrick Chinamasa, who was demoted to the less glamorous Ministry of Cyber Security, Threat Detection and Mitigation; Simbarashe Mumbengegwi, who lost the Foreign Affairs portfolio to Walter Mzembi (former Tourism minister); and Christopher Mushohwe (Information), who was reassigned to the Department of National Scholarships in the President's Office.
Mumbengegwi was reassigned to the Macro-Economic Planning and Investment Promotion ministry, formerly held by Obert Mpofu, who has now taken over from Chombo as Home Affairs minister.
Zanu PF spokesperson Simon Khaya Moyo now doubles as government mouthpiece following his reassignment as Media, Information and Broadcasting Services minister.
Former Information minister and Zanu PF political commissar Webster Shamu bounced back into the limelight as Mashonaland West Provincial Affairs minister, replacing Faber Chidarikire, who appears to have lost favour with the President's wife First Lady Grace. Chidarikire reportedly misfired when he introduced Mnangagwa's wife Auxilia as acting First Lady at a Zanu PF meeting in Chinhoyi some 24 months ago.
Chiratidzo Mabuwa replaces Zhuwao as Youth, Indigenisation and Economic Employment minister with Edgar Mbwembwe as new Tourism minister.
Other ministers who were unscathed in yesterday's reshuffle include Jonathan Moyo (Higher Education), Lazarus Dokora (Primary and Secondary Education), Oppah Muchinguri (Climate and Water), Samuel Undenge (Energy), Joseph Made (Agriculture), Walter Chidakwa (Mines), Supa Mandiwanzira (ICT), Joram Gumbo (Transport), Douglas Mombeshora (Lands and Rural Resettlement), Nyasha Chikwinya (Women Affairs), David Parirenyatwa (Health), Kembo Mohadi (State Security), Sydney Sekeramayi (Defence), Michael Bimha (Industry and Commerce), Sithembiso Nyoni (SMEs), and Josaya Hungwe (Psychomotor Activities).
The changes were announced as Chinamasa and Mupfumira were reportedly out of the country on government business.
The reshuffle has been dismissed by the opposition as akin to recycling deadwood, as the Zanu PF government is under pressure to deliver on its electoral promises ahead of next year's crunch polls.