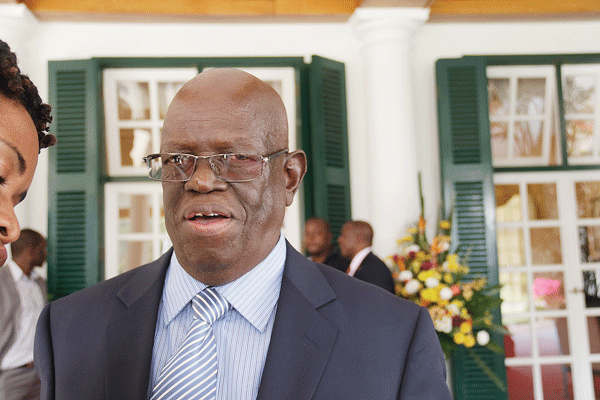 GEORGE Mlala, vice-chairperson of a breakaway war veterans group fighting to take over control of the Zimbabwe National Liberation War Veterans Association, has filed a $15 000 defamation lawsuit against former War Veterans minister Tshinga Dube for allegedly labelling him a fraudster, devil incarnate and an enemy of the ruling Zanu PF party.
By NQOBANI NDLOVUI
Dube allegedly made the remarks "on or about July 16, 2017" while addressing a meeting of war veterans at Stanley Square in Bulawayo, Mlala said in papers filed at the High Court.
"Plaintiff's claim is for payment by defendant of the sum of $15 000 being damages suffered by the plaintiff arising out of defamatory utterances of the defendant published by the defendant to members of the war veterans at a meeting held in Bulawayo," the court papers read in part.
Dube allegedly accused Mlala and Manicaland Provincial Affairs minister, Mandi Chimene of being enemies of Zanu PF, statements Mlala said were defamatory in his lawsuit.
"…That that leadership of a war veterans faction led by Manicaland Provincial Affairs minister, Mandiwa Chimene (in which plaintiff is the vice-chairperson) is an enemy of Zanu PF and the liberation struggle. Plaintiff is a corrupt thief of the highest order and the devil incarnate.
"Plaintiff was a mercenary and enemy of Zanu PF working towards destroying the party. Plaintiff was destroying the party in Bulawayo and that he imposed himself as provincial secretary of security yet he knew he was corrupt," the court papers add.
Dube and Mlala have been at loggerheads after the former called on President Robert Mugabe to groom or name a successor to prevent chaos and ensure a smooth political transition.
Mlala reportedly belongs to the G40 faction that boasts of the backing of First Lady Grace Mugabe, while reports say Dube is a member of a grouping pushing for Vice-President Emmerson Mnangagwa to take-over from Mugabe.
At one time, Mlala organised protests for Dube's ouster before Vice-President Phelekezela Mphoko intervened and ordered the two officials to close ranks ahead of next year's crunch polls.