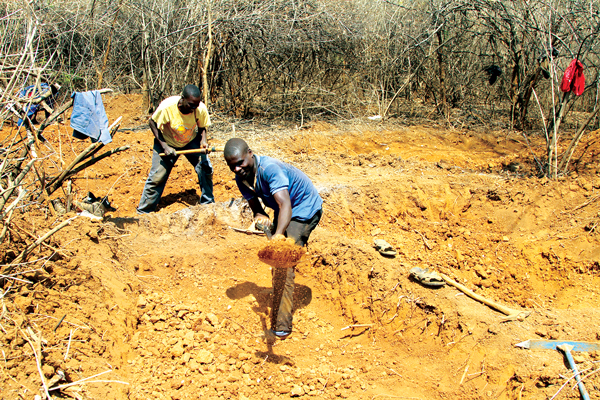 The men work in a haphazard line, digging the ground in the blazing sun with grim determination.
BY PHILLIP CHIDAVAENZI
A few signs that they are on the right trail are enough to keep them going.
With the sweet scent of gold getting stronger, so does their resolve, so they cannot throw down their picks and shovels.
Among the shirtless artisanal miners, their strong bodies glistening with sweat in the sun, is Simon Tiki.
At first, he is reluctant to speak to NewsDay. He says he is new here and not authorised to speak to the media by the owner of the gold claims, where they are digging.
The rest of the crew — about 10 of them — pretend to lack interest in the conversation.
Once in a while, however, someone shouts anonymously: Why do you want our pictures? So, will you pay us?
But with a little persuasion, and a friendly prod, Tiki opens up: "You can tell there is gold here by the size and shape of the stones. Of course, the digging is a tough job, but once you hit the gold, there is a lot of money."
A few metres away from where the men are working are signs of a fire that has long died, with pots and pans scattered about.
Hanging from a nearby tree is a dressed chicken, ready for the pot.
Talking to the men, it becomes clear that many of them have been driven to the gold fields by frustration: company closures in Kadoma and the falling prices of white gold, as cotton — the traditional money spinner in these parts — has been finding fewer and fewer takers.
"I was working for a company in Kadoma, but it closed down like many others," Tiki says.
"So, I had no choice, but to come here because you can get a new job at another company and the next day, it closes down."
Sunny Makore, another of the miners, is hoping they will stumble upon the gold deposits before the onset of the rains. This is a race against time.
"If we don't get the gold soon, it won't be good," he says, wiping sweat off his forehead with the back of his hand.
He says that soon, phone calls will start coming in from home to have him bring inputs; seed and fertiliser.
"When the agricultural season arrives, we go back home and concentrate on cultivating and ploughing the fields," he says.
But Makore is stuck between a rock and a hard place: the money is still buried in the ground.
So, the picks continue hitting the ground, one after the other, each thud, urging the men on, for with every dig, they get closer to wealth.
Makore says although it is difficult to strike gold, many of the miners and panners had left formal employment because small-scale gold mining offered brighter prospects.
Once the men strike the precious mineral, the owner of the claim takes the raw ore to the mill for processing.
Not too many are rich enough to own a mill, but he who does — like Richard "Mhondoro" Majuda in Sani village, a few kilometres from Patchway Centre — runs the show.
They call him Mhondoro because that is where he came from, lured by the scent of gold and the riches it promised in Kadoma, 150km south west of Harare along the Harare-Bulawayo highway.
Mhondoro owns a stamp mill that services 38 smallscale miners, who bring their ore to be processed and the gold extracted before he sells it to Fidelity Printers and Refiners (FPR) in Harare.
"Sometimes, we can get one or two grammes of gold per tonne of ore," Mhondoro says, adding that after selling off the gold to FPR at between $25 and $30 per gramme, he pays out the miners.
Mhondoro employs permanent workers and a few more on contract, who are paid immediately after their gold has been separated from the ore at the mill and hit the road.
"I can, however, give tokens (given from Fidelity with a promise to pay later), and the miner will get his money at the end of the month," he says.
According to statistics from FPR, there has been a resurgence in the small-scale mining sector following various interventions by the Reserve Bank of Zimbabwe and the Mines ministry to curb the smuggling of gold.
The country has 25 000 registered small-scale miners, with nearly 500 000 involved in artisanal mining.
After the process, Mhondoro says he takes the gold to FPR and once he has collected payment, he starts off by recovering his costs, including the money "invested" in transport, tractors, torches, batteries, mercury as well as meals and beer consumed during mining and milling of the ore.
He splits the remainder with them, collecting 50% and giving them the remainder to share equally among themselves.
"Since I own the equipment, I remove the expenses first and then share the remainder with the miners," he says.
He says the cash crisis in the country has not spared the mining sector and one of his headaches is how to get cash to pay the miners — some of whom have no bank accounts.
Bankers' Association of Zimbabwe president George Guvamombe says artisanal miners are among those who have a right to demand payment in cash because they are exporters.
Guvamatanga told a Mobile Money and Digital Payments conference in Harare recently that exporters — including miners and farmers — are entitled to hard cash because they are exporters.
"You cannot have something that you have not created. We have to understand that when you want the United States dollar, you need to have exported. A civil servant cannot go to the bank and demand all their money in cash because he has exported nothing," he said.
"We have to understand that for us to have that cash, someone should have exported."
To circumvent the liquidity crunch, Mhondoro says sometimes they end up paying the miners in grain, which is more acceptable than plastic money.
A number of young panners here, however, feel many of the millers are cannibalistic in their modus operandi, sucking their blood like predators as the payouts are just "chicken feed".
One young miner, Moses Maduyu, admitted that scavenging for the precious mineral is no stroll in the park, particularly when one does not have the wherewithal to play solitaire and has to pawn their labour to those with mining and processing resources.
"For some of us, mining is painful because we have no implements, no (gold) detectors. We just hit the ground and keep our fingers crossed that we will strike the gold," he says, before taking a gulp from his 2-litre bottle of opaque beer at a makeshift convenient store at Hazelmere Farm in Chakari.
Maduyu, however, says there is so much gold, and opportunities for a quick buck, that many young people are increasingly lured away from school in search of riches in the red soils that abound in Kadoma and surrounding areas.
Opportunities for exploitation abound, too, according to another young miner, Chamela Mtaka.
"Many young people involved in the mining come from poor backgrounds, and they can take whatever the claim owners offer, even if it's just peanuts," he says, before taking a gulp of opaque beer.
"The majority here left school midway, attracted by opportunities to make money quickly offered by dealing in gold. Once you are able to write your name or understand directions, that's it. You are done with school."
The cultural dynamics in the communities here also play a significant role in pushing more and more young men into the gold fields that have become a rich feeding trough, even as the country's economy continues to shrink, offering very little hope to school leavers and graduates churned out into the streets by the country's numerous tertiary institutions.
For those in rural areas, the circumstances are often unforgiving.
"For you to spend two or three years in training, or gain experience before you can be fully employed, it's too expensive. By the time you are done, you would have depleted the family's herd of cattle," Mtaka says.
"Once you turn 18, you are considered a man and no one is prepared to continue funding your education."
According to a 2004 Global Mercury Project report by Dennis Shoko and Marcello Veiga, Kadoma-Chakari lies within one of the largest gold belts in the country and "has the highest density of small-scale gold miners, millers and panners of all the country's gold belts".