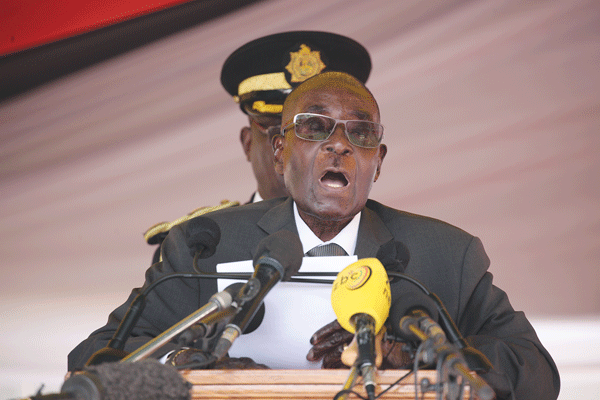 PRESIDENT Robert Mugabe yesterday disclosed that he had on several occasions clashed with a section of Cabinet ministers led by Vice-President Emmerson Mnangagwa over how to deal with capital punishment, which he said should be retained on the statutes to allow for the hanging of some convicted murderers.
BY PAIDAMOYO MUZULU
In a speech to mark Heroes Day commemorations at the National Heroes Acre, Mugabe also appealed to the public to take up the hangman's post, which has remained vacant for over two decades.
"We are still debating whether to remove capital punishment. My Cabinet is divided about that and Mnangagwa wants it to be removed, but we are still considering. We now have many people on the death row," Mugabe said.
Mnangagwa, who doubles as Justice minister, is on record describing capital punishment as inhuman and wants it abolished.
"We are failing to get a hangman. If there is anyone brave, they should apply and we will appoint," Mugabe said yesterday.
The death penalty has remained a controversial issue in Zimbabwe and the new Constitution exempts women murderers from execution while only allowing for certain male criminals to be hanged.
Meanwhile, Mugabe, who is preparing for re-election in next year's general elections, said his government was contemplating setting up a new fund to cater for the welfare of war veterans, as most were living in a sorry state.
"We should create a huge fund to assist war veterans and their dependants. (Finance minister Patrick) Chinamasa is failing to raise enough revenue for all this due to the dwindling tax base," he said.
Mugabe said they will also consider having the rich donate to such a fund.
"I know some people have money. The rich should come forward and donate to the fund. We need that fund to help families of war veterans," he said.
Currently, war veterans are being catered for under the War Veterans ministry headed by Tshinga Dube. In 1997, war veterans caused a major economic haemorrhage after the government succumbed to pressure and paid them a whopping ZW$50 000 one-off payment each under the hastily-organised arrangement.
Mugabe also called on the military and police to be more disciplined and learn to co-exist.
This follows a recent incident where soldiers and police clashed in Harare's central business district after traffic police reportedly clamped an army truck.
Mugabe said soon after the incident, he summoned top military and police bosses to his office and read the riot act.
"If soldiers and police are working at cross-purposes, how will they be able to stop civilians working at cross-purposes when they (security services) are doing the same?" the President further said.