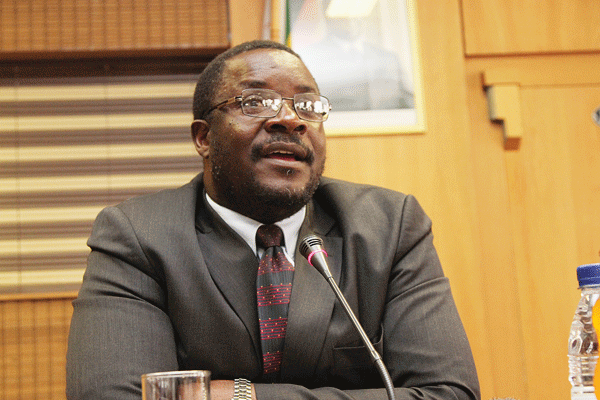 MEDIA, Information and Broadcasting Services secretary George Charamba yesterday said the Constitution provides for self-regulation of the print media, but imposes restrictions on the broadcasting sector because of limited frequencies which are considered as national property.
BY VENERANDA LANGA
Addressing stakeholders attending a workshop to discuss a petition submitted to Parliament by the Elections Resource Centre on amendments of the Electoral Act to the Constitution in Bulawayo yesterday, Charamba said even political parties were allowed to run their own publications without restriction.
"If you want a cat to be among the pigeons, expect it to be bloody, but if you want the pigeons to be on their own, then expect them to choose their king because you cannot have both," he said.
"You cannot come to us asking us to regulate the media when the laws do not allow us to do so, and what I am saying is that, please self-regulate."
Charamba said during elections, his ministry surrenders all media institutions to the Zimbabwe Electoral Commission (Zec).
"The legislative intention is to try and avoid undue benefits flowing in the direction of incumbents, and it means during all elections, all print media transfers allegiance to Zec."
He said there were no physical or legal limits for one to join the print media industry, as they required registering with the Zimbabwe Media Commission, while the broadcasting sector was different because for one to broadcast terrestrially, they would require frequencies that are finite and considered as national property.
"To the extent that they are finite and national property, it means that not everyone who wants to broadcast can broadcast. So, the scarcity principle comes in and it means there will be rules that access must be used towards national rules. There are rights attached to that access."
Charamba described clause 61 (IV) of the Constitution, which speaks on fair coverage and impartiality by public broadcasters, as "weird", saying it implies that there is a law for black cats and white cats.
"In my view, that distinction between private and public broadcasters is needless and must be applied to all broadcasters, and if you are using a finite resource, you have an obligation to be fair."
He said the Access to Information and Protection of Privacy Act and the Broadcasting Services Act was there for journalists to get access to information, but said to date, no media practitioner has approached his ministry demanding access to such information.
Charamba described Zimbabweans as "last-minute people" who act on issues of elections in the last minute, adding the petitioners must have engaged government a long time back on electoral reforms.
However, Law Society of Zimbabwe executive secretary Edward Mapara said the petition was sent to Parliament long back in 2015.
Speaking at the same event, Deputy Attorney-General Kumbirai Hodzi said: "We, as the Executive, do not want to be arrested into a permanent electoral mode. The Executive must be allowed to govern and so we need to move away from continued discussion of the Electoral Act. There is nothing government is afraid of as far as the amendment of laws is concerned."
But Constitutional law expert Lovemore Madhuku said the ERC petitioners should continue lobbying for enforcement of the law because the bulk of the issues they raised were adequately covered by the Electoral Act, and were yet to be enforced.
Speaker of the National Assembly Jacob Mudenda called for political tolerance during elections.