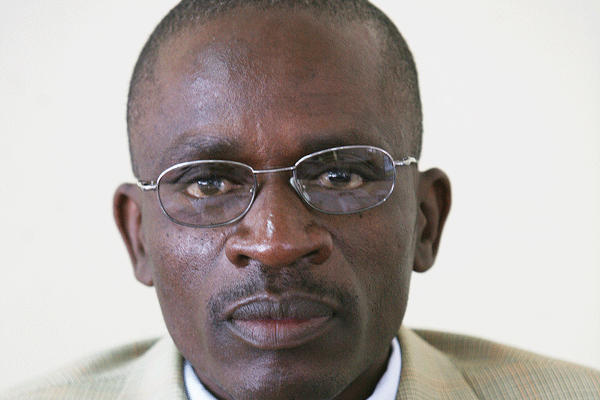 NEWSDAY Editor, Wisdom Mdzungairi and chief reporter, Everson Mushava were yesterday summoned to CID Law and Order section at Harare Central Police Station for questioning over a story where former Zanu PF Mashonaland Central provincial youth leader Godfrey Tsenengamu early this year called for President Robert Mugabe's resignation.
BY STAFF REPORTER
In the story, published on February 21, titled Mnangagwa ally savages Grace, Tsenengamu urged war veterans to push Mugabe to step down in favour of Vice-President Emmerson Mnangagwa.
Tsenengamu also ripped into First Lady Grace Mugabe, describing her as "un-presidential" and warning of an implosion in the ruling Zanu PF party if she continued with her unrestrained attacks on her opponents.
On Monday, police officers visited NewsDay offices demanding to interview Mushava who was away on assignment.
Detective Assistant Inspector Stephen Guvuriro and a Detective Sergeant Chatikobo later asked the two journalists to report at Harare Central Police Station CID Law and Order Section yesterday.
Mdzungairi and Mushava handed themselves over to the police yesterday, where they were questioned for two hours before being released.
They were accompanied by their lawyer, Belinda Chinowawa of the Zimbabwe Lawyers for Human Rights, and Alpha Media Holdings legal counsel, Sifikile Thabete.
The police wanted the reporter to give a statement with a view of turning him into a State witness, but Mdzungairi objected to the profiling of the reporter by the police, arguing it would make him vulnerable.
Chinowawa stated that Section 61(2) of the Constitution protected journalists from disclosing their sources.
She also argued that it was a violation of journalistic principles and ethics to turn journalists into State witnesses.
"The only extent to which we can help police is giving you the copy of the newspaper article published on February 21 and a video of the Press conference, which you said you already have. We stand by the story and it is the only statement we can give you," Chinowawa told the police during the grilling.
"People will end up being afraid to give information to journalists if journalists are asked to testify in court. We must promote constitutionalism and sources must feel protected so as to trust journalists."
The Zimbabwe Human Rights Association (ZimRights) expressed concern over the summoning of the journalists.
"ZimRights condemns every and any attempts, such as this, by the authorities to censure the work of media houses and journalists in the country in violation of the freedom of the press and free expression," the body said in a statement.
"Such actions have an intimidatory effect on the media practitioner, who should normally feel protected by the Constitution to carry out the work without these visits by law enforcement institutions."
Zimbabwe Union of Journalists secretary-general, Foster Dongozi condemned the journalists' interrogation, saying it was an attempt to intimidate and muzzle them from doing their work.
"Police should conduct their own investigations without trying to use journalists to do their work for them," he said.
"Furthermore, police need to appreciate that journalists are not informers and they should let them to do their work without interference."
This is the second time NewsDay journalists have had a brush with the law this year.
In March, Mdzungairi and senior reporter, Richard Chidza were summoned to the police over a story about President Robert Mugabe's health.