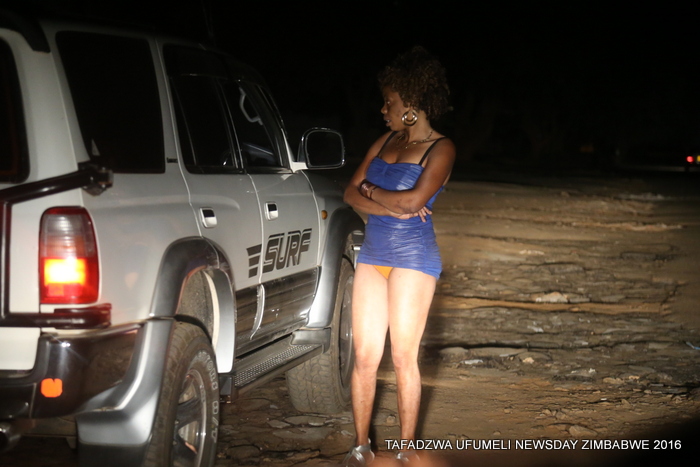 FOURTEEN-year-old visibly drunk Nelia stands by the nightclub door anticipating that one of the truck drivers parking their heavy vehicles will become her second client of the night.
BY OWN CORRESPONDENT
Sporting a skimpy dress that exposes the greater part of thighs and matching high heels, the teenager wriggles her waist upon seeing two men approaching the nightclub.
The men feign disinterest, although they cast longing gazes at her as they walk into the nightclub.
"They will come back. I have to meet my target. I need three more clients for me to get a bigger commission. My boss is waiting for her money, otherwise she will fire me and get another girl," she says.
Nelia is one of the young girls employed by senior commercial sex workers who provide them with accommodation before demanding three-quarters of their earnings from each client.
The senior sex workers, often referred to as "retired generals", are recruiting young girls who have proved to be favourites of truck drivers.
"This is a clean deal. If I charge $5 for a quickie, I get $2 and surrender the rest to the boss. The boss can also find clients for me. I can take home $12 per night on a good day. Sometimes I get more if the clients demands unprotected sex," she said.
This has become the trend in many nightspots and border areas in the country.
In a snap survey in Marondera, NewsDay Weekender established that some bar owners hire teenagers from local schools as dancers before sexually exploiting them.
Martha Rumano (39), who resides near a popular nightclub in Dombotombo, Marondera, where most young girls ply their trade, said young children are sexually exploited and end up infected with HIV.
"It is a sorry state, especially at night. Young girls are running the show here. The girls will be drunk, half-naked and shouting vulgar words," she said.
According to a 2016 report recently launched by the Zimbabwe National Council for the Welfare of Children (ZNCWC) titled Young Women In Commercial Sexual Exploitation Along Two Transport Corridors in Zimbabwe: Causes, Initiation Prevalence and Use of HIV And Social Services, 64,6% of young women reportedly started selling sex below the age of 18.
ZNCWC director Taylor Nyanhete said there is need to monitor social gathering centres so that children are not exploited.
"We would want monitoring of social centres so that children are not exploited; they are not part of syndicates or rings in communities. It's a practice where older women tend to recruit children, it is known, so we would want those places be monitored and where officials think it's happening, they must ensure that those people are arrested and convicted," Nyanhete said.
Zimbabwe has ratified key international conventions concerning Child Labour (ILO.C182), Worst Forms of Child Labour and UN CRC Optional Protocol on the Sale of Children, Child Prostitution and Child Pornography.
The prohibition of commercial sexual exploitation of children is embraced in section 87 of the Criminal Law (Codification and Reform) Act and section 3 of the Sexual Offences Act.
According to the ZNWC report, government departments have been sluggish in combating commercial sex exploitation of children.
National Aids Council Mashonaland East provincial co-ordinator Wilfred Dube confirmed the development saying this is spreading new infections as children are vulnerable.
"We have old commercial sex workers who are established and have accommodation, now they have lost business because of age they now act like barons who recruits young girls who are very attractive and offer them men for sex work.
The elderly sex workers are the ones who are paid while the young girls are given commission. This is the scenario that we are getting almost in all the hotspots," he said.
"The biggest challenge now is that those young girls, because of their age, if they contract sexual transmitted infections, don't have information on what they are expected to do. And also in terms of the law they are not considered sex workers but children. Because they don't have information they are very vulnerable to HIV infection."
Dube said the young sex workers need to be sensitised on HIV and Aids.
According to Progressio Southern Africa Sub-Region manager Fiona Mwashita, who helped in the study, 66,7% of those involved in commercial sexual exploitation are school dropouts.