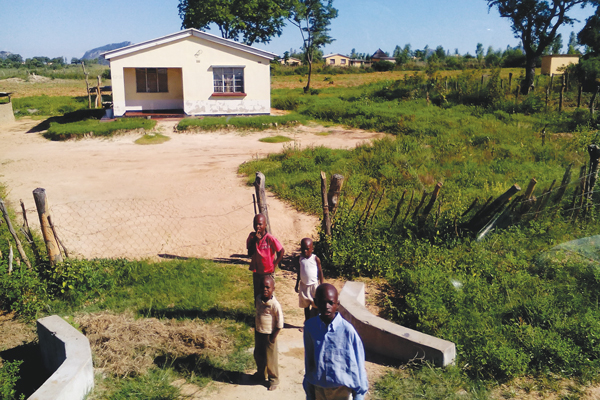 SIX years after Nomsa Masango and her family were relocated from the Chiadzwa diamond mining area in Manicaland to Arda Transau, the only benefit she has accrued is a four-roomed house built by Anjin, and the rest is a sad tale.
BY VENERANDA LANGA
The over-sized faded clothes she wears and worn out slippers are enough to show the level of her impoverishment.
Several other seemingly impoverished Arda Transau villagers gathered around the visiting delegation of MPs from the Parliamentary Portfolio Committee on Mines and Energy and the Zimbabwe Environmental Law Association (Zela) all there to find out about their living conditions.
They jostle to narrate their sordid tales of poverty and nasty experiences after they were removed from Chiadzwa to Arda Transau.
"We were resettled in these four-roomed houses, but we have extended families, including people in polygamous marriages and we are so squashed that in my house more than 12 people share four rooms," she said.
"There is no privacy at all because we have to share the rooms and I and my husband end up resorting to making love in the toilet for lack of a free place."
Masango said in order to eke a living, they sold firewood, saying there was a form of child labour, where children also worked at nearby farms in Odzi.
"Children work at farms for $1 per day in order to raise money for the $15 school fees. We are hungry, there is no food and now that the former mining companies were stopped from working, we no longer get food rations," she said.
Mavis Gache chipped in, saying most people relocated from Chiadzwa to Arda Transau were polygamists from the vapostori religious sects, which has resulted in very large families sharing four-roomed houses.
"The problem is that a man might have been relocated at a time when he was married to one wife, but later he marries more wives and they end up being squashed in these houses," she said.
Houses at the Anjin-relocation site have a fifth room, a kitchen located outside the main house.
From a far away glance, the houses look neat, but a closer inspection shows cracks due to poor workmanship.
Jacob Bvekwa, a polygamous man boasted of having 34 children with four wives, saying each wife occupied a room.
Asked how they enjoyed their conjugal rights with several children and wives around, he explained they were always ways of finding hideouts.
MPs from the committee heard that several other issues pertaining to the plight of the relocated villagers, such as hunger, joblessness and failure by the companies that operated in Chiadzwa to compensate them.
"Since 2011, when I was relocated with my family, I was only given $1 000 as relocation allowance," narrated Steven Charisiki.
"There are no jobs around, as we were thrown into this bushy area. We can only provide cheap labour at surrounding farms. We never get food handouts here, and we feel that we were better off in Chiadzwa, where we had larger plots of land and livestock."
Herbert Chiomba narrated his ordeal, where he had built a bottle store in Chiadzwa before relocation, and when he was transferred to the new Zimbabwe Consolidated Diamond Company (ZCDC) relocation site, he was not given money to build another bottle store as compensation.
"I was only offered land for me to build another bottle store, but I have no money to buy building materials," he said. When they were relocated from Chiadzwa, they were only given 100 square metres of land for farming.
Acting Mutare district administrator, Simon Sigauke said when diamond mining companies started their work in Chiadzwa, 32 villages were earmarked for relocation, yet only five were successfully relocated, leaving 4 032 households yet to be relocated by the new mining company ZCDC.
The consolidated mining company has only managed to relocate 23 people, with no other projects to show to MPs, which they had so far done for the community, except to show off old housing projects done by Anjin.
For Arda Transau villagers, tarred roads are things they only see when they go to Mutare and other towns. All over are dust roads despite the area being endowed with diamonds.
The projects that government has since started spearheading after the coming in of ZCDC include an irrigation project, where each family will get half a hectare. There are three centre pivots for the irrigable total hectorage.
An old warehouse, which belonged to Anjin had been lying idle and Sigauke said plans were underway to convert it into a youth vocational training centre.
At Arda, where some Chiadzwa villagers were relocated in 2011, Chiomba said there was no secondary school and children had to walk 20km to the nearest school.
The nearest clinic is also 20km away, posing danger to pregnant women that might suddenly develop complications.
Zela mining taxation expert, Mukasiri Sibanda said there was need for clear policies on how ZCDC will engage the affected communities, as well as how they would deal with issues of compensation and corporate social responsibility.
"For ZCDC, to tell MPs that they buy chickens and vegetables from the local community as corporate social responsibility is a joke. We need serious community enterprise development," he said.
ZCDC acting chief operations officer, Ridge Nyashanu told MPs that they had plans for infrastructural development in Chiadzwa, including building a university if funds permit.
Information minister Christopher Mushowe, who is also and legislator for the area, said the former diamond mining companies in Chiadzwa never fulfilled their promises to the people.
"We expected several schools and even a university, but they failed to even construct teachers' houses. The bridge that you saw was constructed by Rhodesian Prime Minister Ian Smith. ZCDC needs to ensure locals are employed at their mines," he said.
Current ZCDC employment ratios are 50% outsiders and 50% locals from Marange.