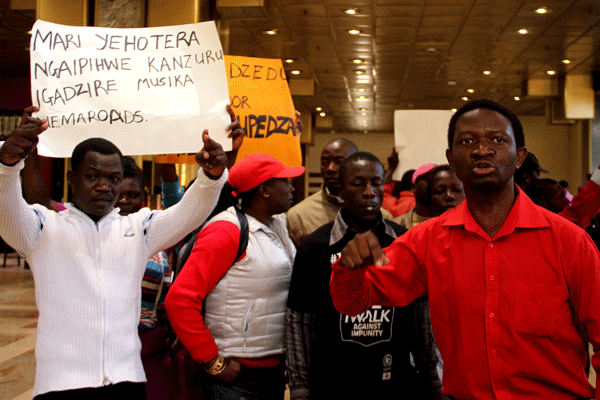 ANGRY ordinary residents and activists yesterday besieged a Harare five-star hotel demanding that Vice-President Phelekezela Mphoko, who has been holed up in its luxurious presidential suite since his appointment in December 2014, vacates immediately.
BY XOLISANI NCUBE/ EDGAR GWESHE
The protest came days after NewsDay reported that Mphoko had refused to move into a multi-million dollar government mansion on which hundreds of thousands have been spent in an effort to meet the VP's expectations and those of his demanding wife, Laurinda.
Led by Stern Zvorwadza of the National Vendors' Union of Zimbabwe (Navuz), the protesters took their anger against Mphoko's continued stay to the five-star Rainbow Towers Hotel at which yesterday he clocked 551 days since checking in.
The protestors marched into the hotel foyer carrying placards denouncing Mphoko and arguing he was wasting public funds while government failed to pay its workers, let alone invest in capital projects.
The group sang and toyi-toyed in front of guests and foreign visitors, chanting anti-Mphoko songs.
Police were called in, but in his address to demonstrators, Zvorwadza said ordinary Zimbabweans were ready to picket at the hotel until the VP leaves.
"Our major concern is that Mphoko is being insensitive as he chooses a luxurious lifestyle at a time ordinary people are suffering. The most painful part is that he is abusing taxpayers' money and we have come here to demand that he leaves this place immediately," he said.
"Why would a national leader refuse to occupy decent homes offered to him and choose a luxurious lifestyle at a time the economy is burning? We are saying no to that and Mphoko must leave this hotel now."
Mphoko has insisted that government undertakes more improvements to the $3,5 million Grange house purchased earlier this year, despite reports authorities have "done what was within their means to make the house comfortable for the VP".
Riot police then moved in, but a defiant Zvorwadza continued his protes and demanded that the police details behave like "normal human beings".
"I urge the police officers coming over there to behave like normal human beings. We have a right to demonstrate, we have a right to petition. Actually, we are protected by our Constitution on Section 59," he said.
"If the riot police think that we are going to give in, that is an impossible task. Why would you want to protect a selfish individual who is blowing taxpayers' money on a luxurious lifestyle," Zvorwadza asked rhetorically before police pounced on him after a scuffle which lasted about 20 minutes.
He was then bundled into a police truck along with two other protesters, before he threw himself back to the ground.
But the police carried him back into the truck.
It was not clear if the VP was in the hotel when the demonstrators picketed as there were no security details who usually keep an eye at the ground floor whenever he is in his 17th floor presidential suite.
As they moved out of the hotel, one female protestor shouted: "I am suffering in my country and it pains me that a so-called Vice-President would choose to spend so much money living luxuriously as if he does not know that Zimbabweans are living in poverty. He (Mphoko) is selfish and I am one of those people ready to die for the truth. Mphoko must leave this hotel and go to a government house."
The protesters were then dispersed by a police reaction team from Harare Central Police Station.
National police spokesperson Senior Assistant Commissioner Charity Charamba said she was yet to be briefed on the arrests.
"I have not yet been briefed on the matter," she said.